Orchard Spreader
Orchard Spreader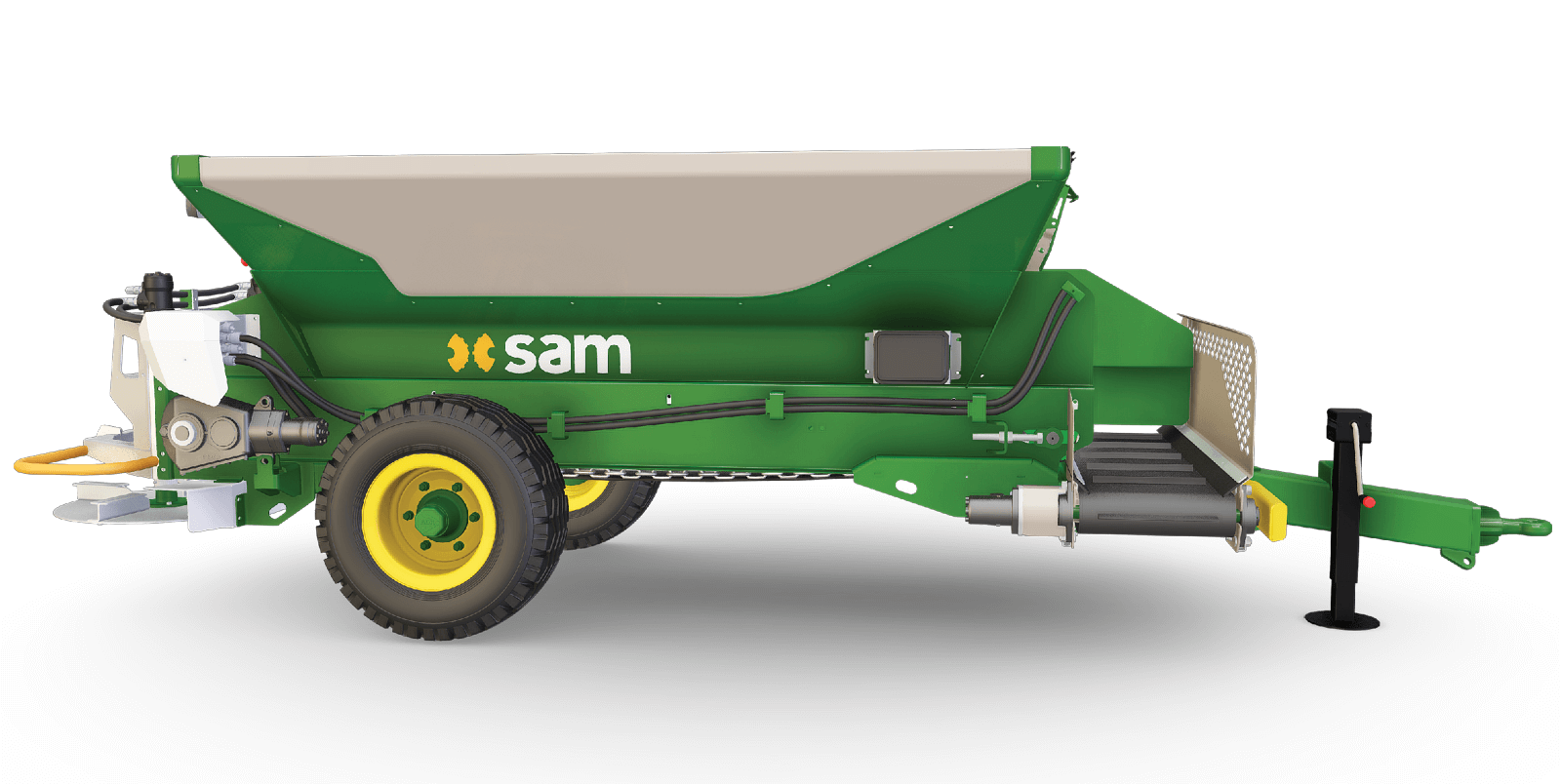 Bands from the front, Spreads from the back.
Smart design, reliability and ease of operation are what SAM's are all about. SAM Orchard Spreaders are made for the specific needs of modern Australian orchards. They have a low profile and a narrow width, and provide superior versatility with what you are able to spread.
Band or pile organic matter such as Vermicast, mulch and compost from the fixed front conveyor. Then spread out the back spinners the likes of lime, super and urea or even organic matter such as chicken manure. 2-for-1 with absolutely no change-over time!
Rate controller in tractor
This Spreader has a hydraulically driven floor that is controlled from a screen in your tractor. This enables you to pick between banding or spreading at the touch of a button. You simply dial in the rates you wish to apply and you are off.
Piling / banding using the side conveyor (Vermicast, green matter, mulch, compost)
The floor mat flows material forwards onto the side banding conveyor at the front of the machine. The operator has an excellent view of exactly where product is being applied.
Spreading using the back spinners (lime, urea, superphosphate and organic material such as chicken and pig manure)
When spreading behind the machine, the floor mat flows back to the spinner set up. If you have different planting centres your spread widths can be altered from the screen in your tractor.
A minimum of 55 litres per minute of oil flow from your tractor is required.
Smart Features
Check out this video of the SAM Orchard Spreader

Watch it in action. Spreading from the back and banding/piling from the front.

SAM control screen

The 800cm wide floor belt is controlled from a simple and intuitive screen that sits inside your tractor. It has a very high water rating - IP67, so it is suitable for open cabs.

Stainless where you need it for the long run

Most of the back end is stainless. This mean extra longevity for you. Stainless discs are run with stainless spinner tubes and tried and true speed adjustable hydraulic motors.

Banding / piling side conveyor

No change-over time needed. This fixed conveyor applies product in a line to the right side of the Spreader. It is very compact and in full view of the driver. Product can be banded or piled.

Switch for instant stop/start

You can quickly start and stop your application at the flick of a switch from your tractor. No need to anticipate when your product may come out. Limits wastage!

Mulch? No problem.

The front door has three positions for the different products you are spreading. A. Closed (for spreading at back), B. Half open (for banding at a volumetric rate) C. Removed (mulch, woodchip, bark, compost or green matter).

Strong stainless panels

Stainless sides are extremely resistant to rust. Chassis's have seen a new progression of painting for extra corrosion protection. An abrasive blast, then a thermal-arc pure zinc spray, a primer followed up with a final two-pot epoxy top-coat. Strong stuff!

Combined spinner RPM control

From your control screen in the cab you can adapt your spinners speed. Individual control of each spinner is also available as an upgrade if needed.
Optional Extras
Standard canvas cover
Swivel Coupling on tow eye
Lights (LED)
Individual spinner RPM
Variations for tyres
Side attachment for spinners
Centre blocker attachment for spinners
Oil cooler and temperature monitor
Tophat for extra capacity
Narrower bin widths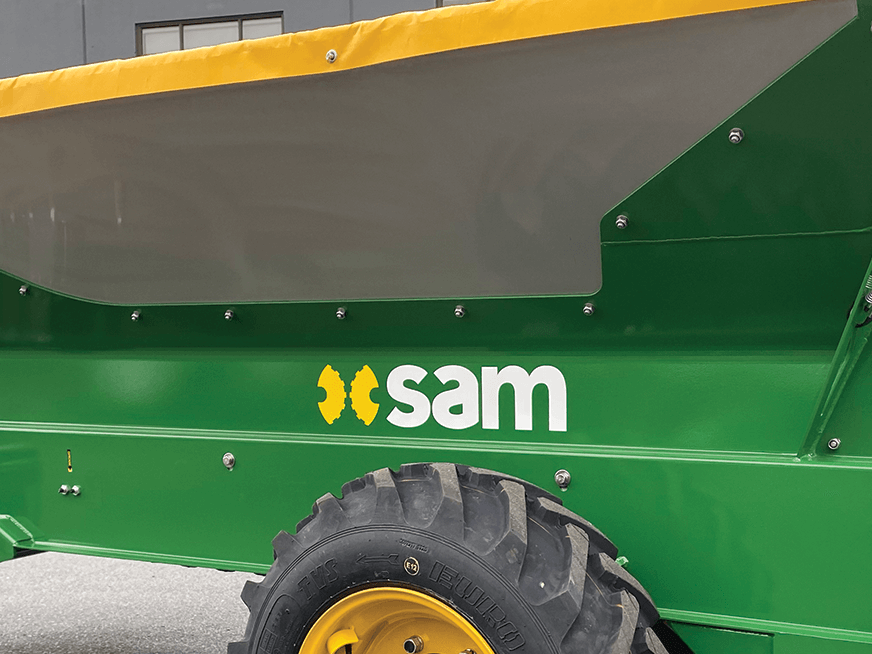 Standard canvas cover
Keep it simple. The standard yellow canvas cover is fixed in position with stainless fastners and bungys.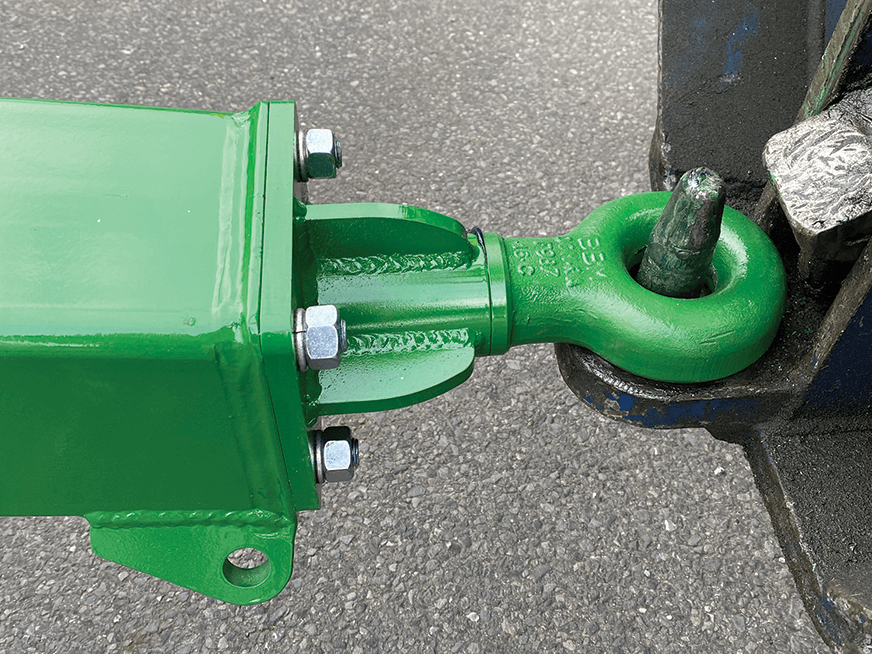 Swivel Coupling on tow eye
All SAM Orchard Spreaders come standard with a fixed coupling with a ball.
If you have varied terrain an upgrade to a swivel coupling is a great idea as it adds stability.
The swivel coupling also has a donut eye so can be used with an auto hitch.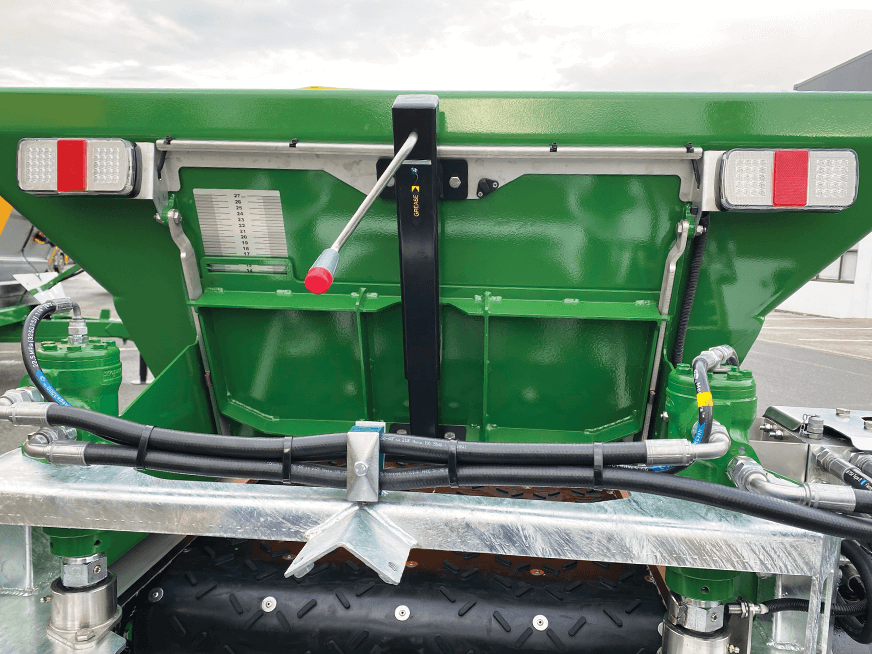 Lights (LED)
LED lights are waterproof and plug straight in to your power. These are required if you are driving your machine on the road.
They are strong and stand up well to general wear and tear. Also very easy to mount.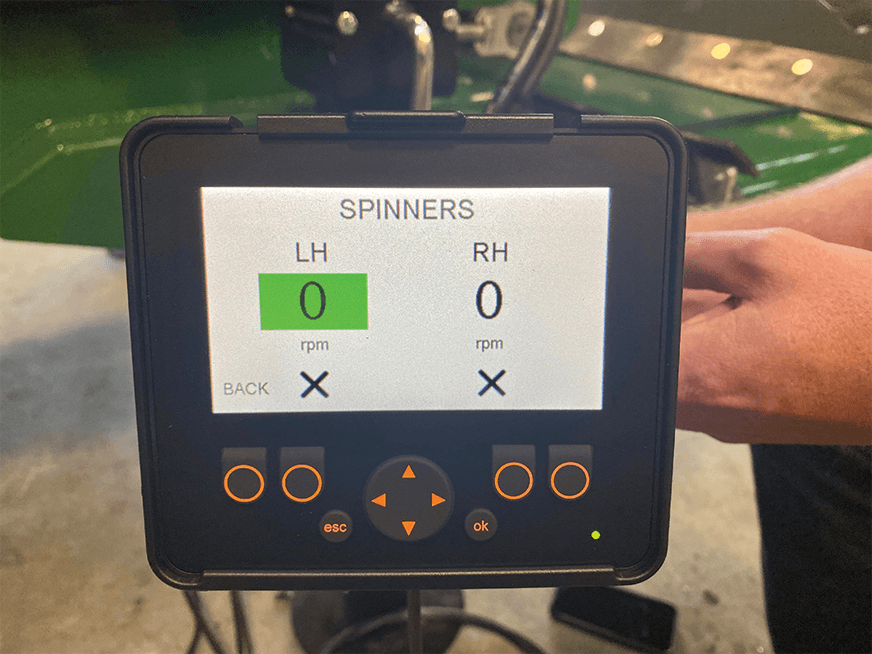 Individual spinner RPM
If you need to vary the spread each side of your machine you will need to upgrade to individually controlled spinner speed.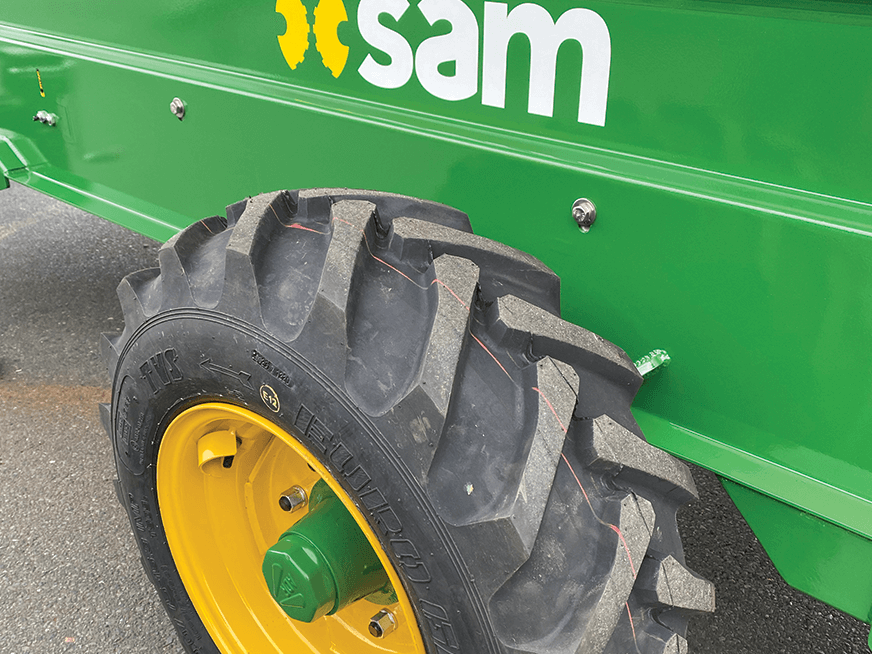 Variations for tyres
You can change your tyres to suit your particular needs. Our tyre are high quality and durable.
On the Orchard Spreader 10/75 x 15.3 Tractor tread tyres are standard. Or you can choose a different tread.
If you have wetter, soft conditions larger 400/60 x 15.5 12-ply tyres are also available. Please note, these do add to the height of the machine.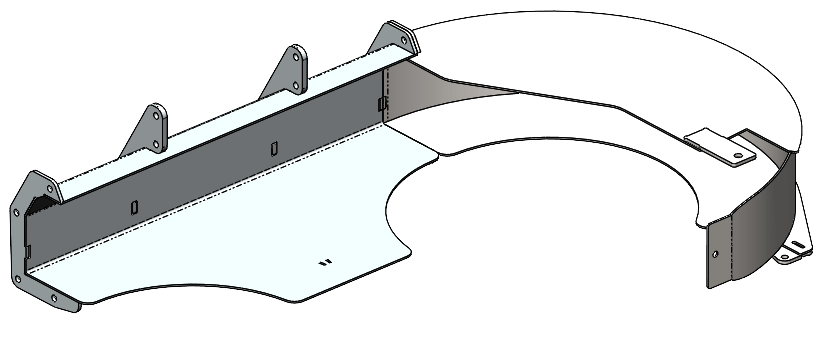 Side attachment for spinners
This is an attachment that bolts onto the back of your machine.
It spreads product to the right hand side of your row. Leaving the left hand side clear.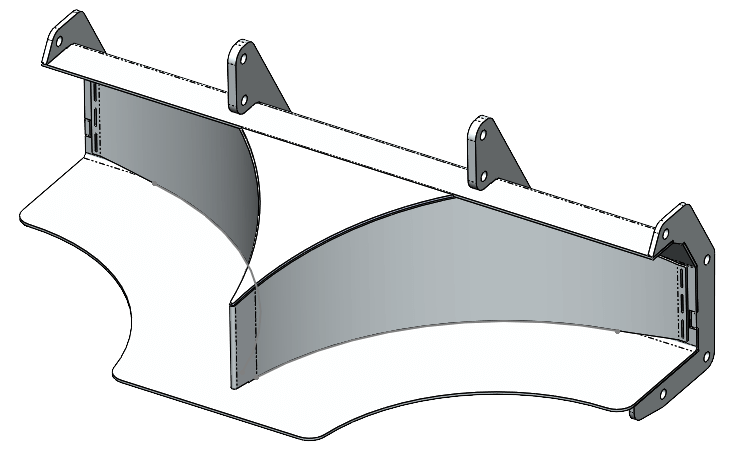 Centre blocker attachment for spinners
This attachment bolts onto the back of your machine. It sits in the middle and spreads fertiliser to the rows either side of your machine.
Oil cooler and temperature monitor
All Orchard Spreaders come standard with oil temperature monitoring. This temperature is shown on the top left of your home screen.
In addition you can add an oil cooler as an optional extra. This takes the oil from your tractor and cools it.
This can be helpful for owners who have tractors with low oil flows and they run their Spreader for long periods on end.
Oil flow from your tractor of 55 litres per minute is required.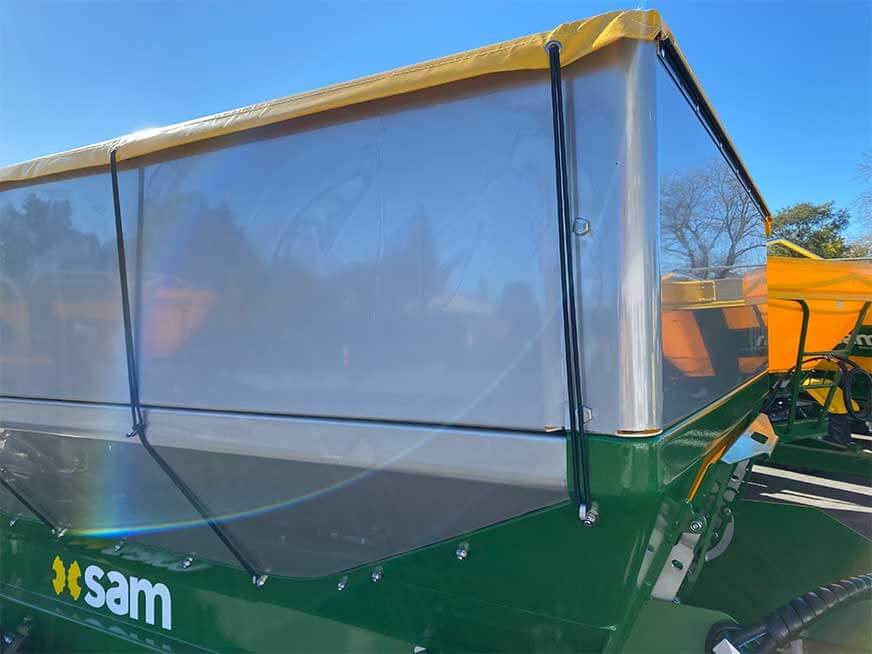 Tophat for extra capacity
You can increase your Orchard Spreaders size by adding a tophat.
They come in two sizes:
- 2 cubic metres
- 1 cubic metre
This extra capacity has been useful amongst our winegrowers.
Narrower bin widths
You can custom your bin to be narrower. Our 1400 bin option has been popular with hops growers.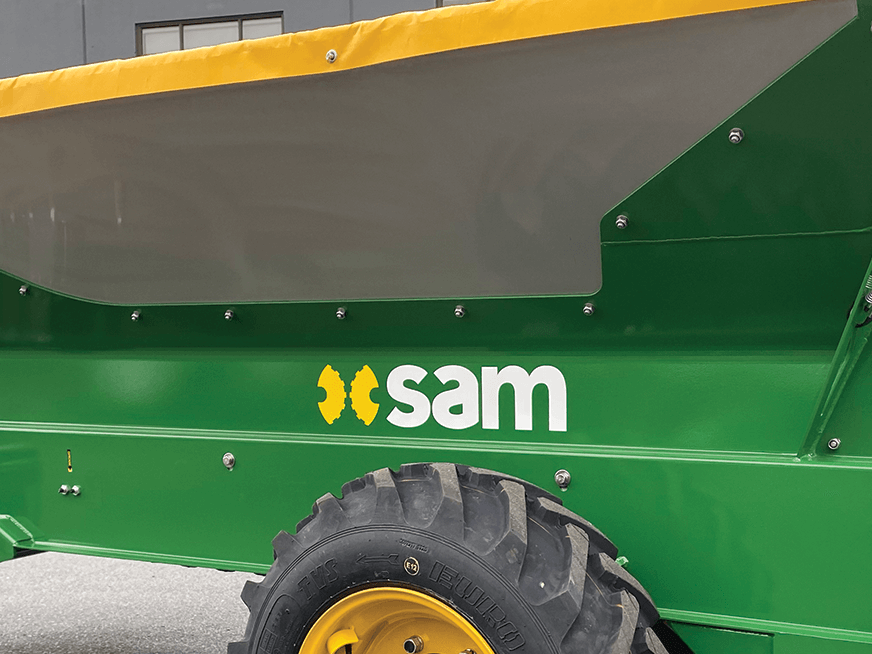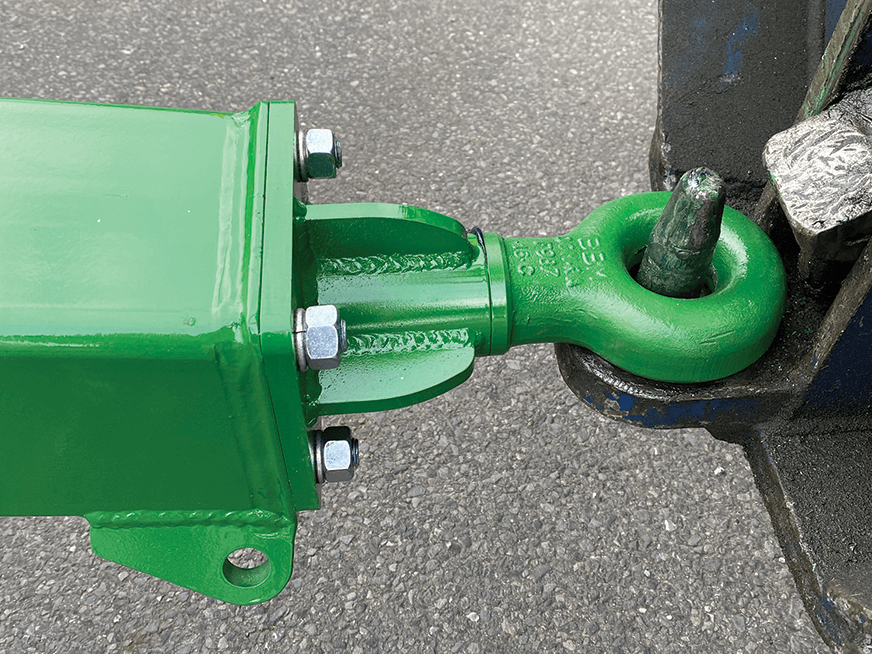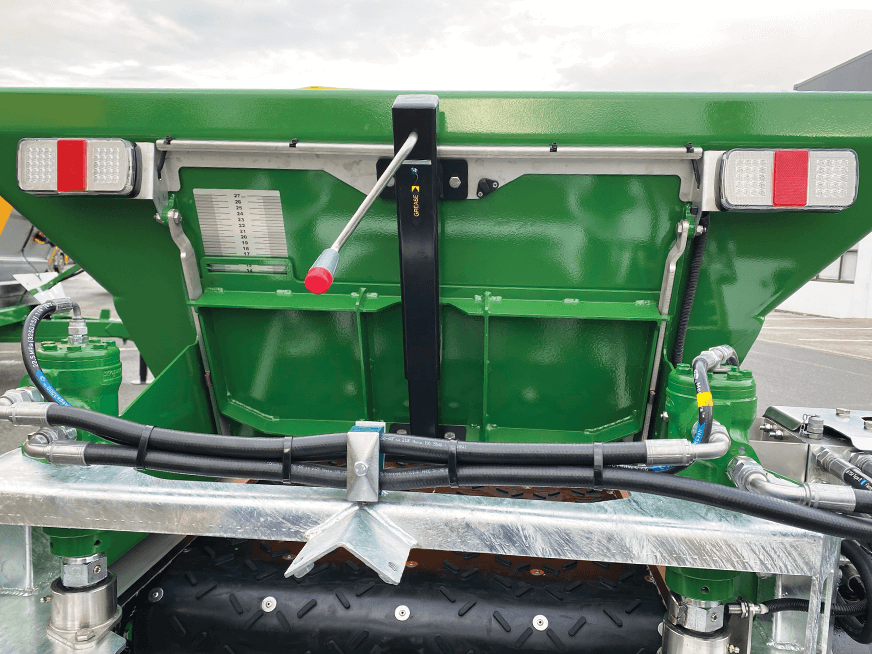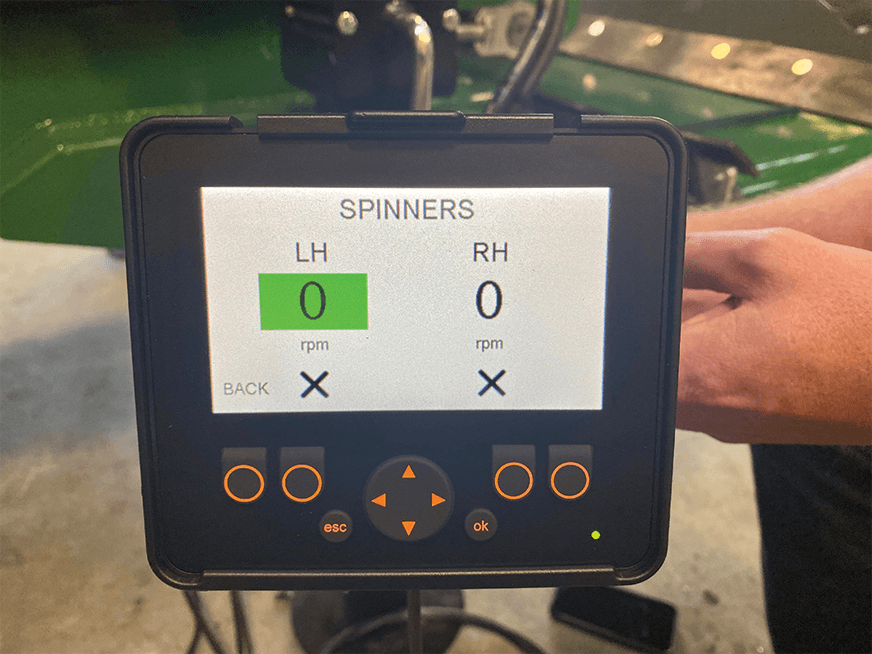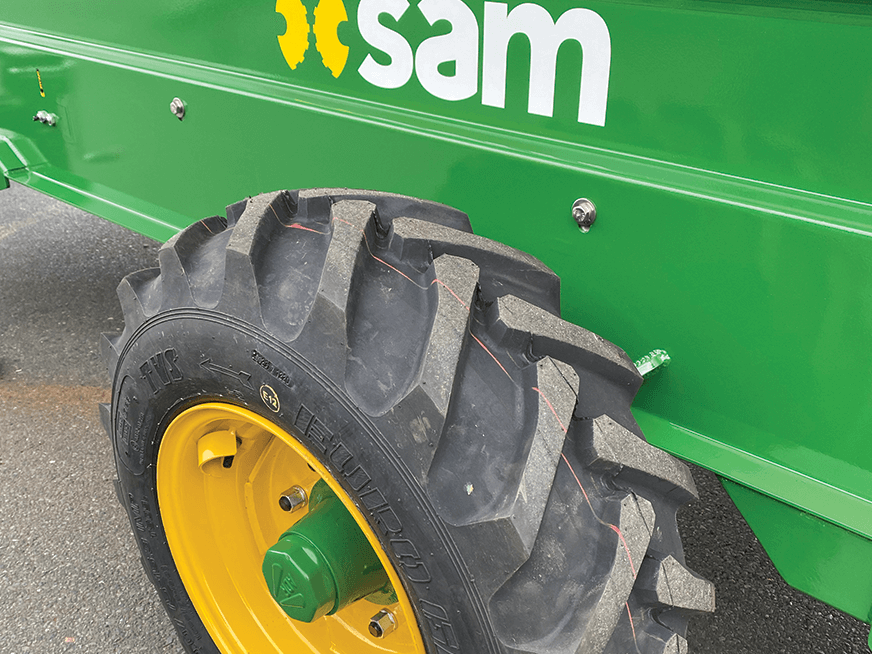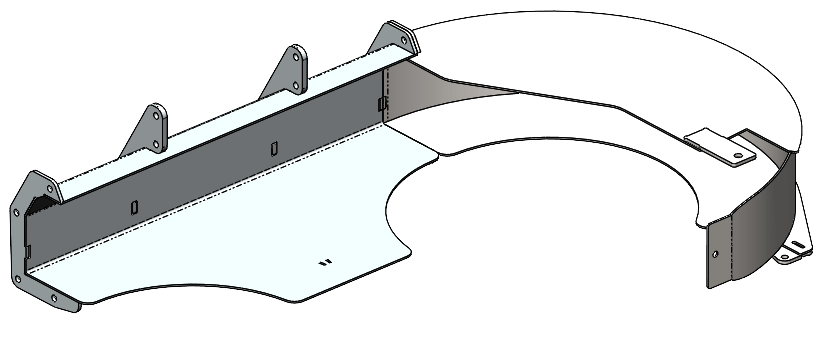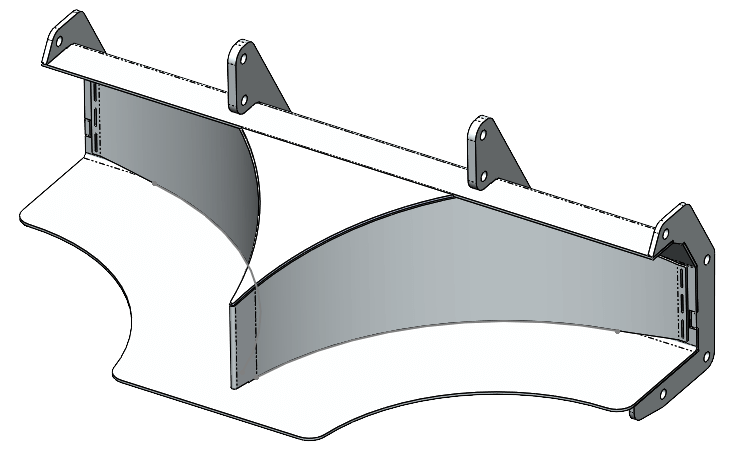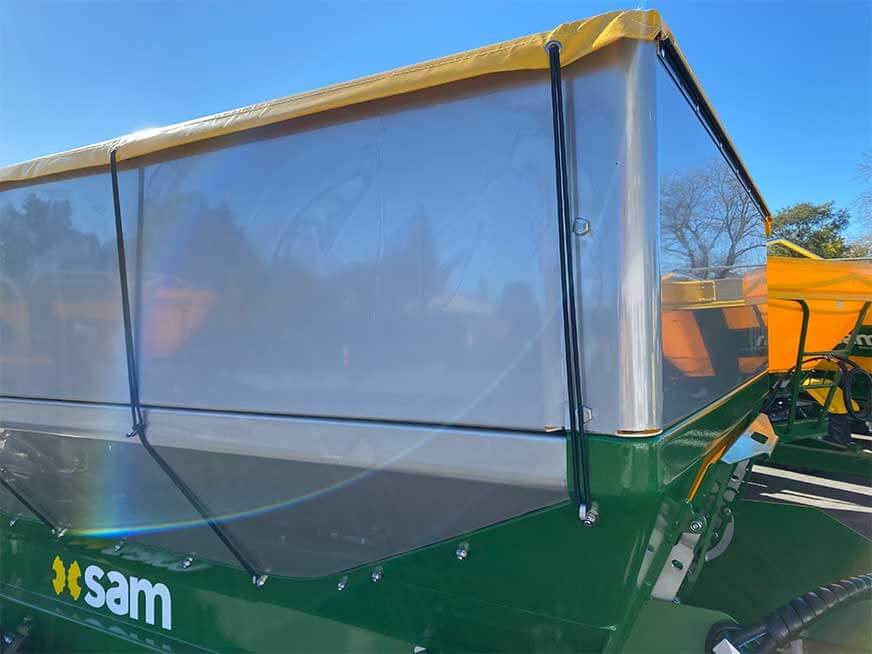 Specifications
Axle

70mm Single-axle

Axle capacity

6,000 Kilograms

Wheel 10/75 x 15.3 Tr (Standard)

400/60 x 15.5 12-ply (Upgrade)

Jack

Screw Jack (70mm)

Overall length

4.75 metres

Overall width

1.6 metres

Overall height

1.42 metres

Bin width

1.59 metres

Bin length

2.6 metres

Capacity

2 cubic metres

Superphosphate

2.2 Tonne

Lime

3.2 Tonne

Urea

1.5 Tonne
Our promise
Here at SAM we make quality Machines and stand by them. All Spreaders have a two year warranty and go through in-depth quality and accuracy testing.
Download the brochure
Being able to see what I am doing at the front is superb!
Sturdy as. Quality gear with plenty of stainless.
I'm not wasting time with the changeover between banding and spreading. Priceless.
I can finally do mulch. It's bloody brilliant!
I don't need multiple machines. This one does the lot.