10 Cube
10 cube feed wagon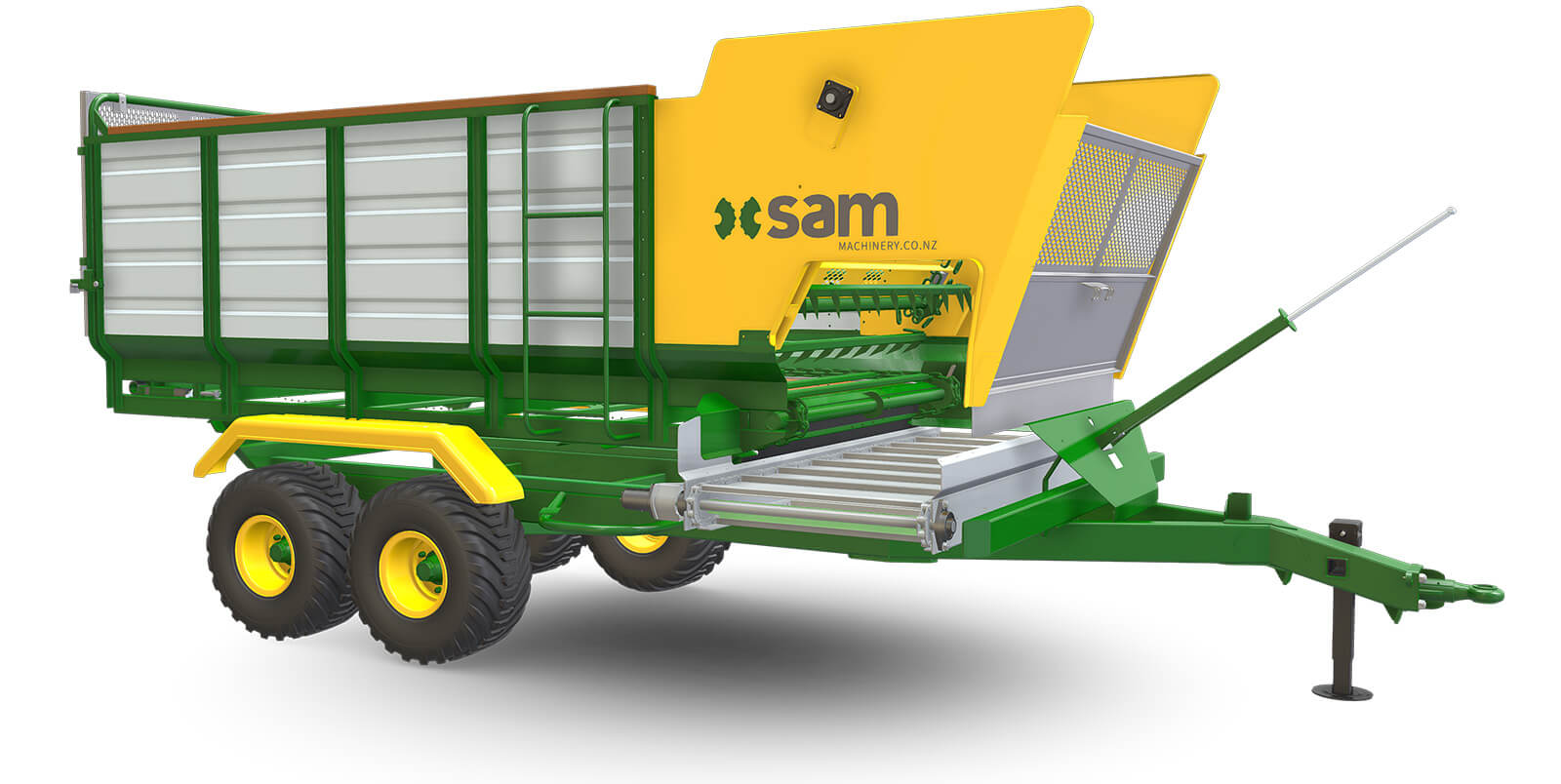 More stainless. Reliability plus.
SAM Feed Wagons are built tough for lasting performance year on year. Complexity is engineered out to ensure they are very reliable, and easy for your team to use and maintain.
Each machine provides an even flow of feed with excellent throw. They handle a large range of feed types including; green feed, maize, PK and silage.

10 & 12 cube models are available. All sizes come with either a low maintenance stainless chain side-feed or a simple centre-feed delivery system. Adding smart load weigh scales can also provide simple, accurate electronic weighing of feed quantities if you need it.
Smart features
Stainless steel chain side feed

A stainless side-feed conveyor comes standard. They are built to last. The 25mm conveyor bars provide a positive directional flow for a range of feeds. Heavy roller chains eliminate tracking issues with less maintenance requirements. These come standard on all machines. Belt option also available.

Stainless sides and front

Stainless sides and strong stainless front cut out any worry about rusting. Also if you are feeding fine product, front holes can be customised to suit your needs.

Superior paint finish

Every Feed Wagon is thermal arced. Gives superb corrosion resistance for the long-term.

Strong chain

High-tensile calibrated chains (13mm) are used throughout for strength.

Trans-tex deck flooring

Standard on all SAM Feed Wagons, Trans-Tex 22mm is a high-strength ply timber. Recognised for its high bending stiffness and high-impact resistance in the trucking industry.

Load weigh scales

The Iconix FX15 display and load-cell system provides simple, accurate electronic weighing of feed quantities. They can be fitted retrospectively. An App for Bluetooth viewing is also available.

Long-life teaser bars

Individually welded teeth are designed for optimal grab and lift. Great for grass silage. They are more labour intensive to build, but last better for you.

Chassis clearance

Chassis has been designed with ample clearance from the ground, to save bellying out in varied terrain.
Optional extras
Load cells
Remote axle greasing
LED Lights & hazard panels
Tyre upgrade
Hydraulic side-shift kit
Brakes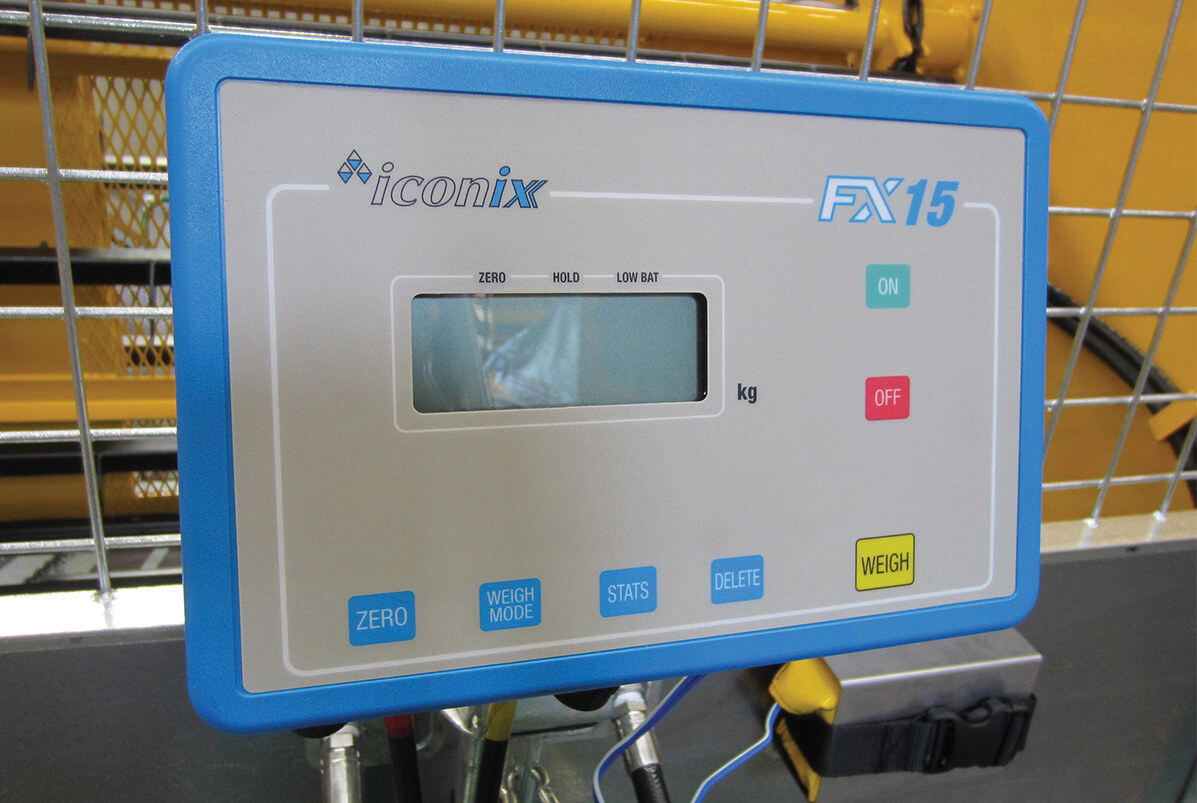 Load cells
Load cells give an accurate measure of the weight of feed in the bin and can be zeroed at any time. A fixed Iconix FX15 display unit is supplied with all SAM machines fitted with weigh scales.
A simple calculation of the weight of feed spread, divided by the area covered, gives a very accurate spread rate (in kg/ha). An App for Bluetooth viewing is also available (currently Android only).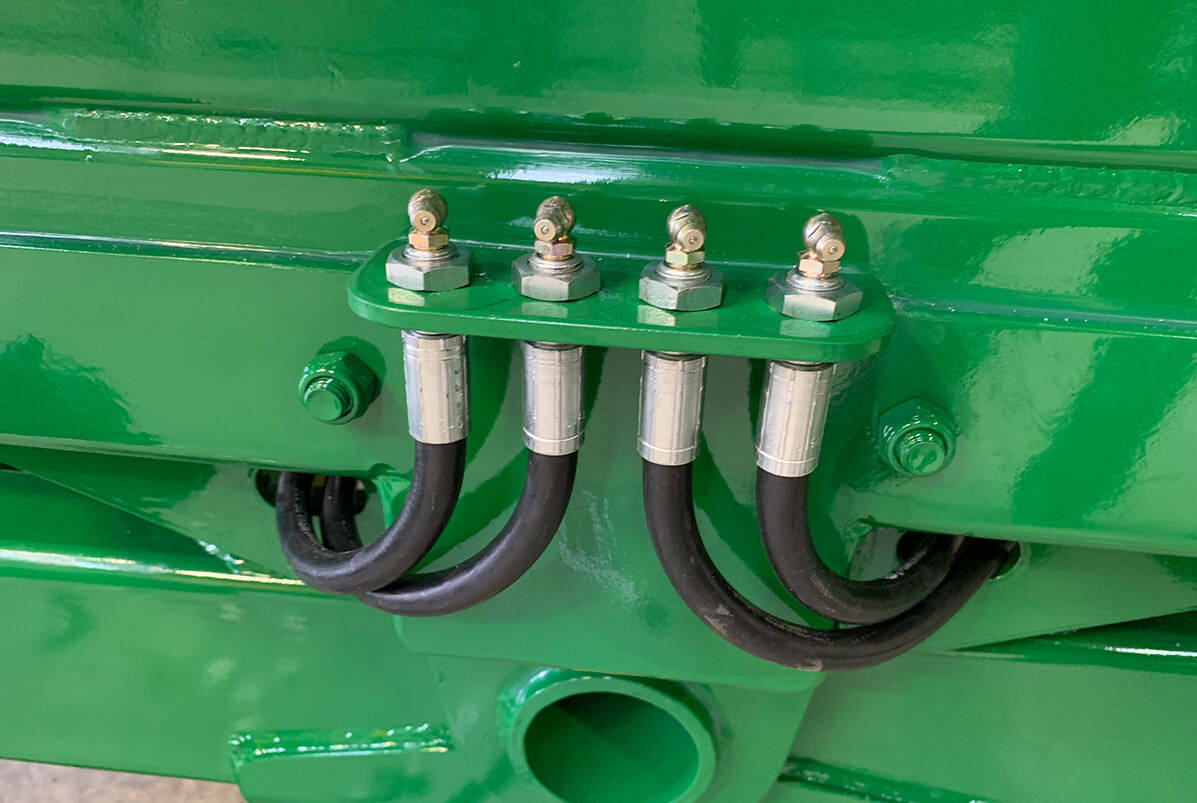 Remote axle greasing
Remote axle-greasing saves you time and effort by giving you access to all axle greasing points. They are all raised together in a bank in an easy to reach location. A very effective way to improve machine maintenance, without having to jump under your machine. So keep that gear greased - no excuses!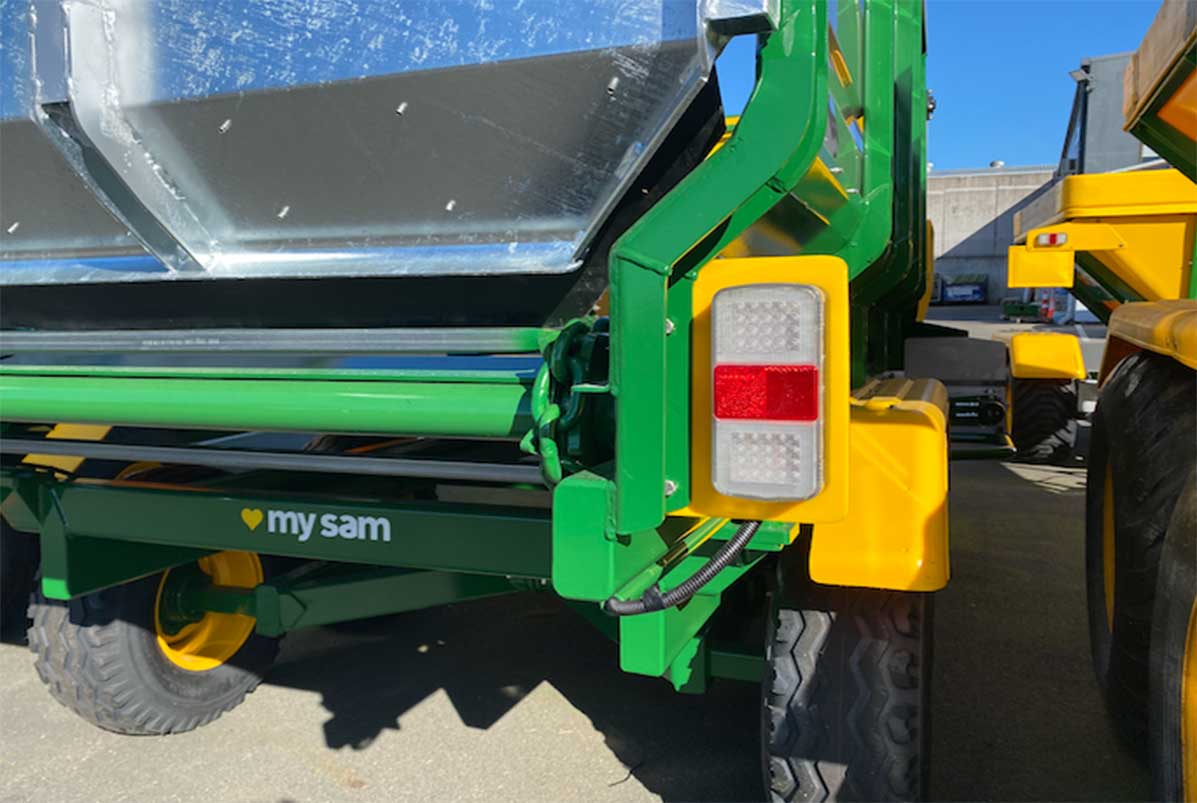 LED Lights & hazard panels
If you are using your machine on the road you will need a set of lights and hazard panels. The panels are made from durable aluminium, hardy for knocks and general wear and tear. Weatherproof lights are LED and plug directly into your power source.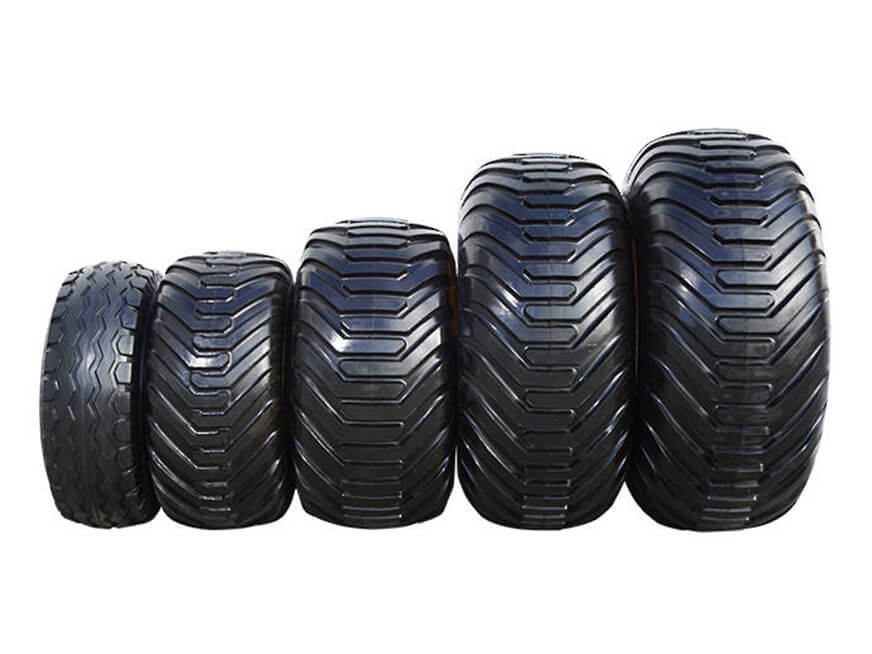 Tyre upgrade
We have tough high performing tyres to suit any application. They are chosen for their quality and durability.
We can change tyre sizes to suit your specific needs. The 6, 9 and 10 cubic metre wagons use 11.5 x 15.3 tyres but these can be upgraded to larger 400 x 15.5 tyres. The 400 x 15.5 tyres are standard on the 12 cubic metre wagons.
500 x 17 tyres are standard on all 15 cubic metre models. Larger tyres can be excellent if you have softer, wetter conditions.
Custom options are also available POA.
Hydraulic side-shift kit
This hydraulic side shift kit extends the side-feed by 250mm for greater reach. It is hydraulically driven from the cab of your tractor. Excellent for easy trough feeding.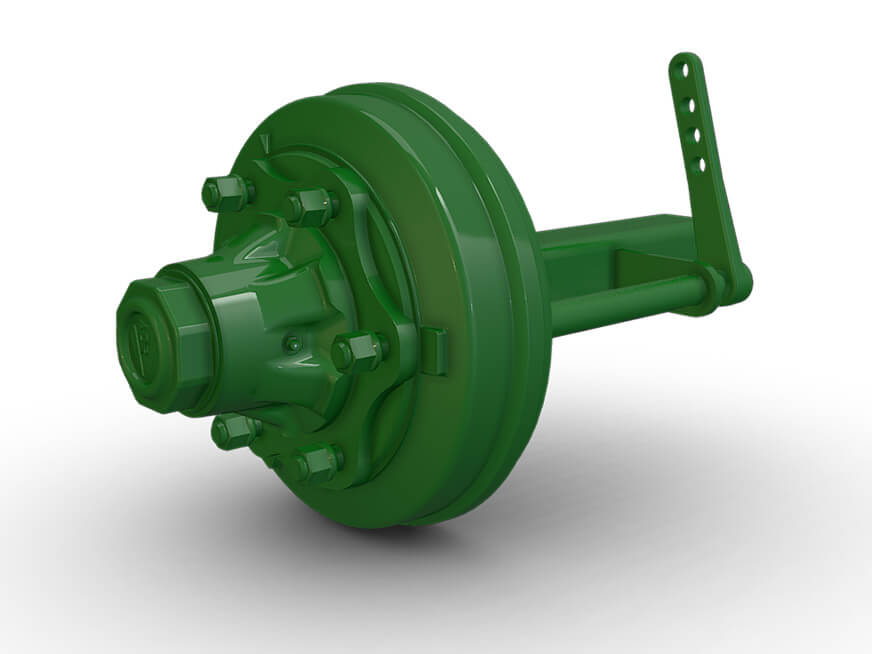 Brakes
Brakes are available for tandem axle machines. They are usually located on the front hubs only. The brake system chosen had been well-proven over the years and is very reliable.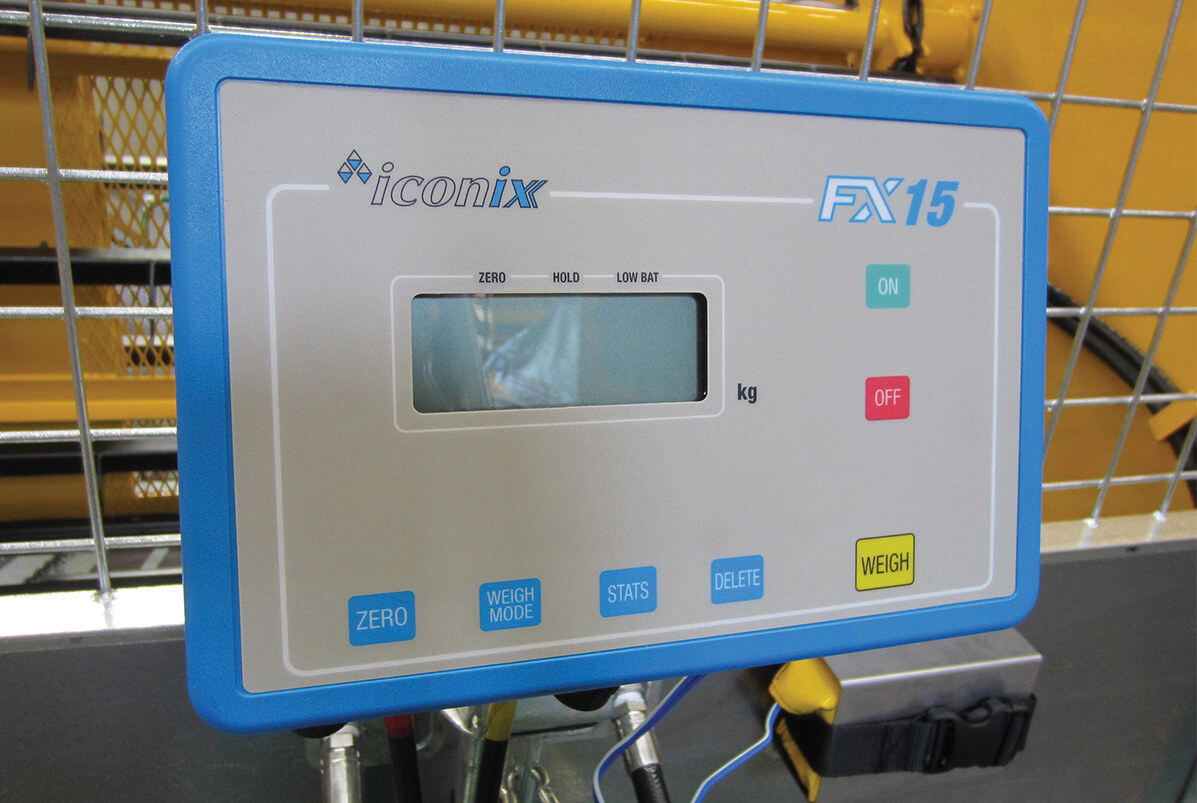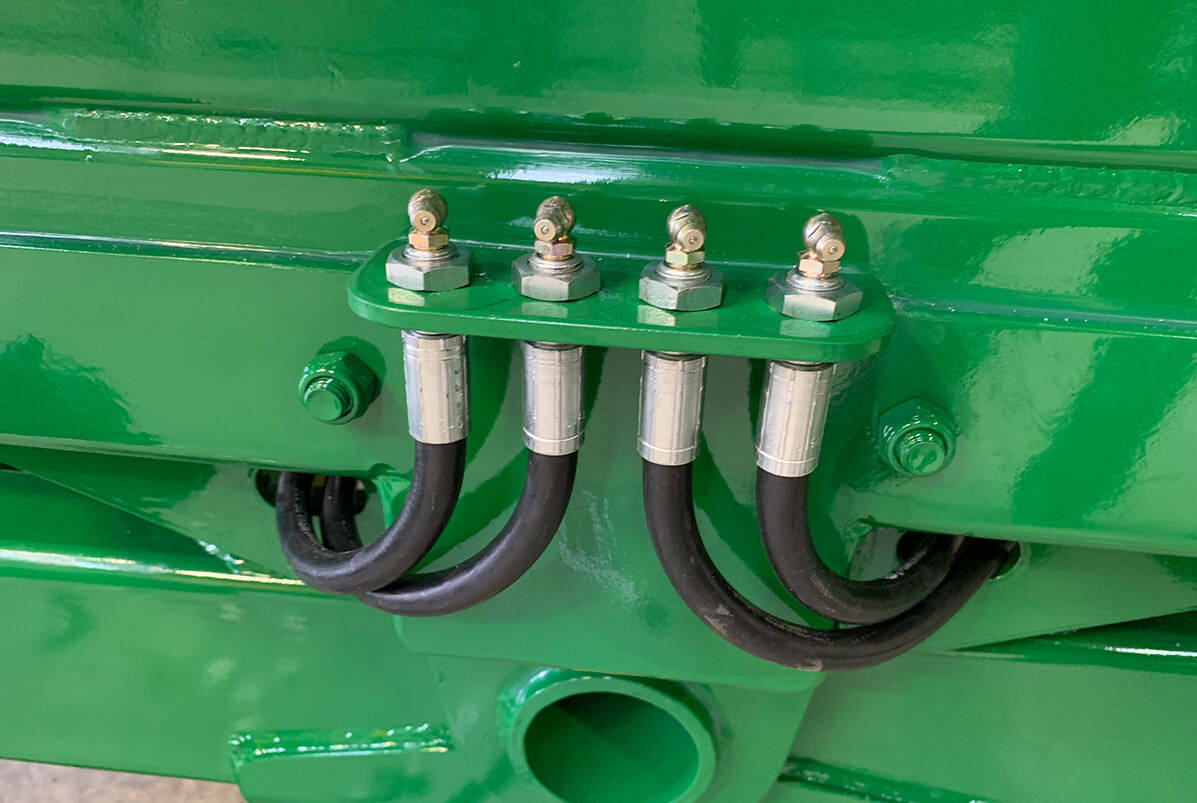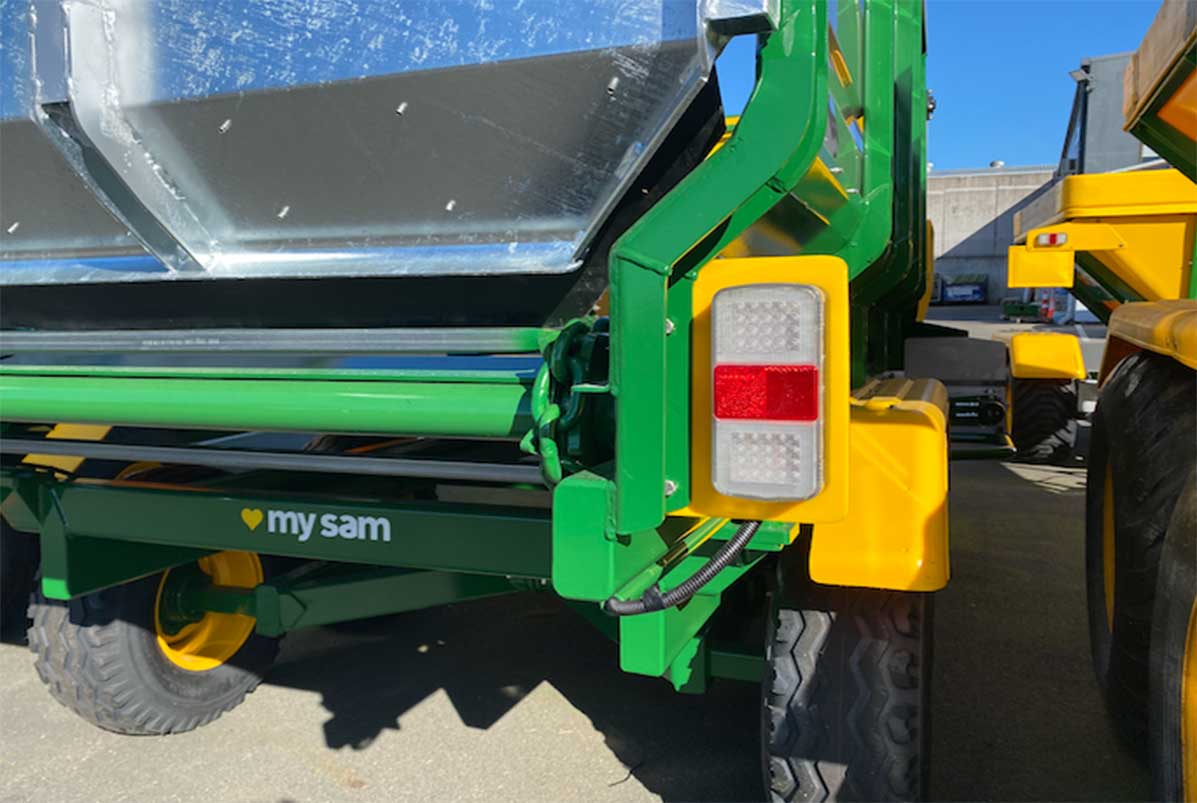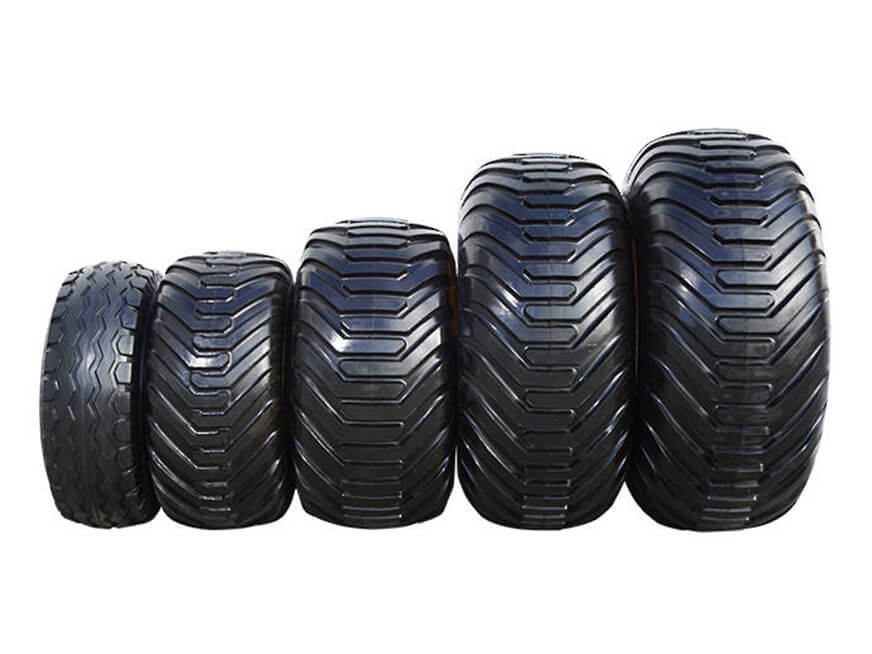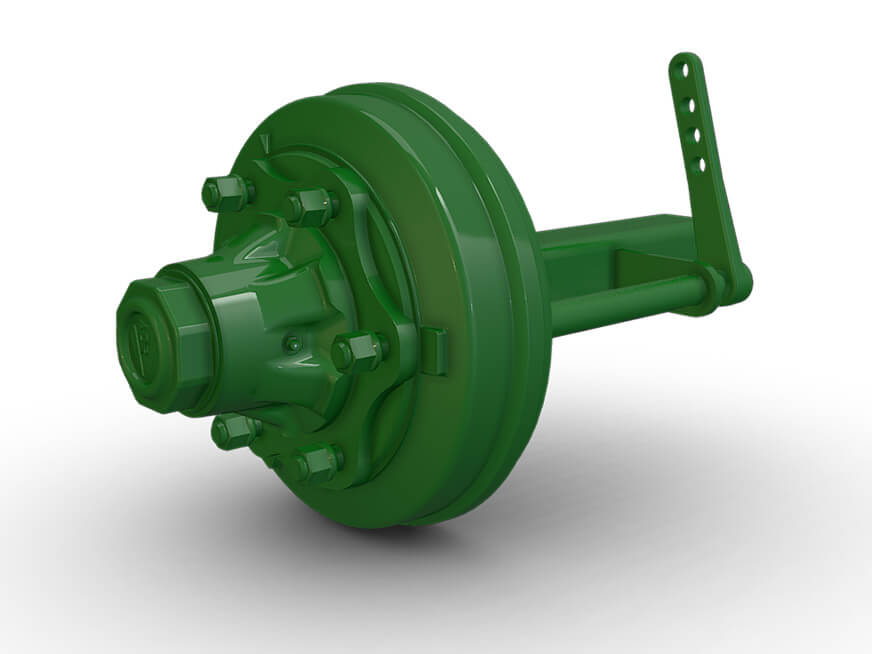 Specifications
Axle Type

Tandem-axle 70mm

Axle capacity

12,000kg

Wheel type

11.5/80 x 15.3 14-ply

Overall length

6.5m

Overall width

2.5m

Internal bin width

2.0m

Internal bin height

1.24m

Capacity

10m3

Load weight (grass silage)

6T

Load height

2.35m
Our guarantee
We deliver quality products and stand by them. All Feed Wagons go through rigorous quality and accuracy testing. They also have a comprehensive warranty.
Download the brochure
The chain side-feed is gold for maintenance.
I can give SAM gear to my workers without a worry, really easy to use and maintain.
Buying a SAM is all about quality and good value.