Article by Rural Contractor
A farming favourite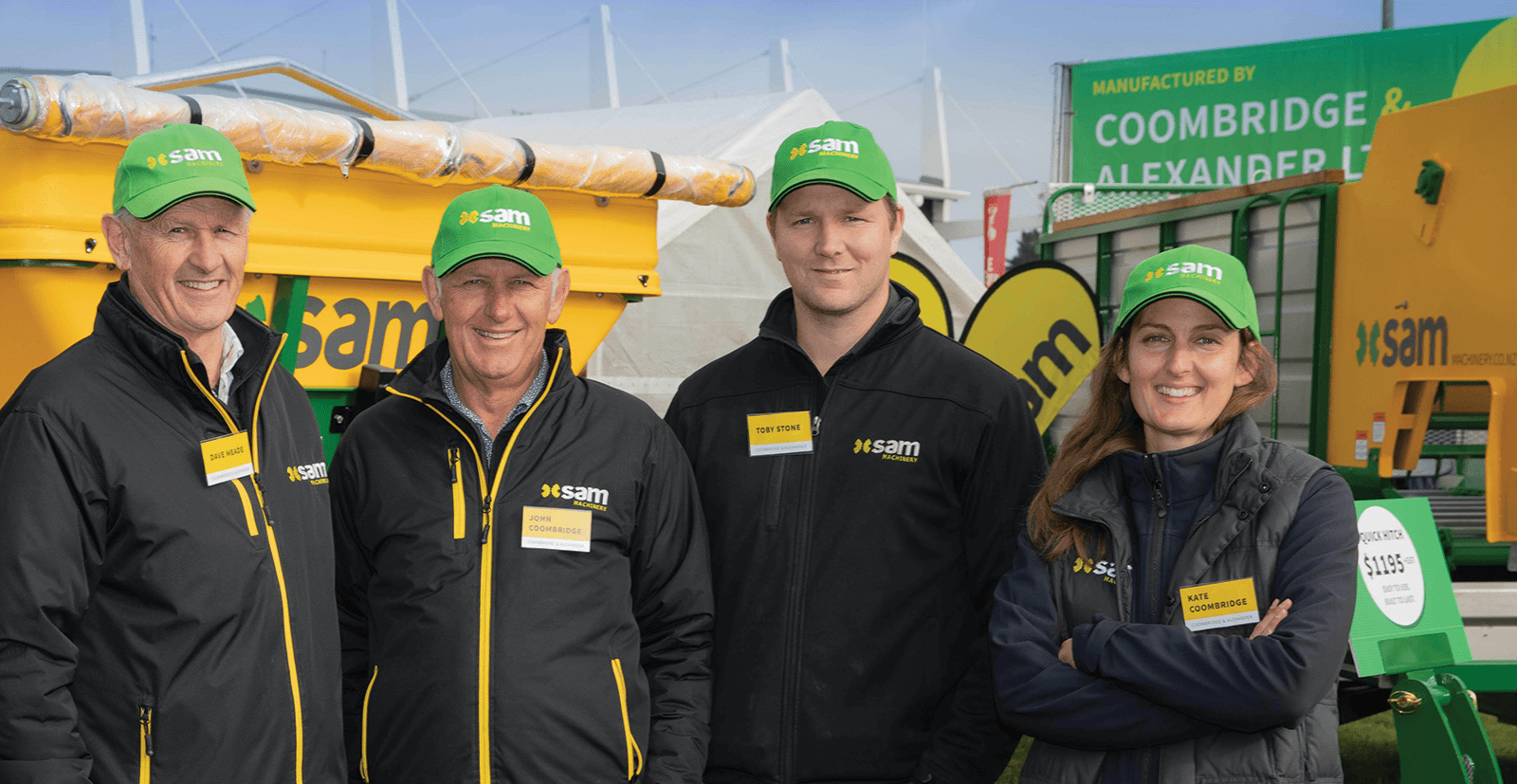 Farm machinery manufacturer Coombridge & Alexander celebrates its 75th year in business in 2020.

Its full range of SAM Machines includes single and tandem axle SAM fertiliser spreaders (which can handle normal fertilisers as well as organic matter), SAM Feed Wagons, SAM Hydraulic trailers and Quick Hitches.

General Manager Dave Meade says as the company heads into its 75th anniversary year, its slogan of 'Strong, Simple, Smart' still runs deep.

Wilf Coombridge and Johnny Alexander were farming when they began to make fence posts and farm gates for local farmers back in the 1940's. Fences evolved into hay elevators. Then in 1952, they purchased their first welder and began to produce a range of steel products.

The 'SAM' name C&A uses to market its products is an acronym from the names of 'Arnold & Mervin Stokes'. They helped invent one of the first products the company manufactured, the SAM hay stacker.

Wilf and Johnny had to overcome some major hurdles in the early days of the business. In 1948 a tornado flattened their factory in Frankton and, in 1950, the business was damaged by fire.

Marketing Manager Kate Coombridge says the original drive for reliability, simplicity and great service began with the founders and now flows across three generations.

Wilf's son John, and his grandchildren Kate and Will are all part of the SAM team. "We are a Kiwi company that likes to do things a little differently. We respect the past but have our sights firmly set on the future of farming" Kate says.

"We are not interested in huge growth or world domination. Our goal is to create a sustainable business that will last well into the future. Our aim is to always be the farmer's favourite."

Simplicity is the company's guiding principle. It strives to design out complexity so that SAM Machines are easy to use, look great and perform on-farm.

"Genuine SAM gear is built to last. Long-term reliability for our customers is our goal. Our designs are all based on this principle. The other element in the C&A slogan 'Smart', comes from the company's drive to create a culture of improvement and common sense.

"Being family-owner and operated gives us a unique perspective. We are practical, resourceful and agile. Always looking for the very best team, materials, technology and workmanship," Kate says.

Top image: Today's SAM Machinery leadership team includes (from left): Dave Meade, John Coombridge, Toby Stone and Kate Coombridge
Images below: The Andem was an early version of Coombridge & Alexander's Spreaders.
Coombridge & Alexander's first factory. The company was established in 1946.