Label
Easy-to-use SAM orchard spreader gives contractors plenty of options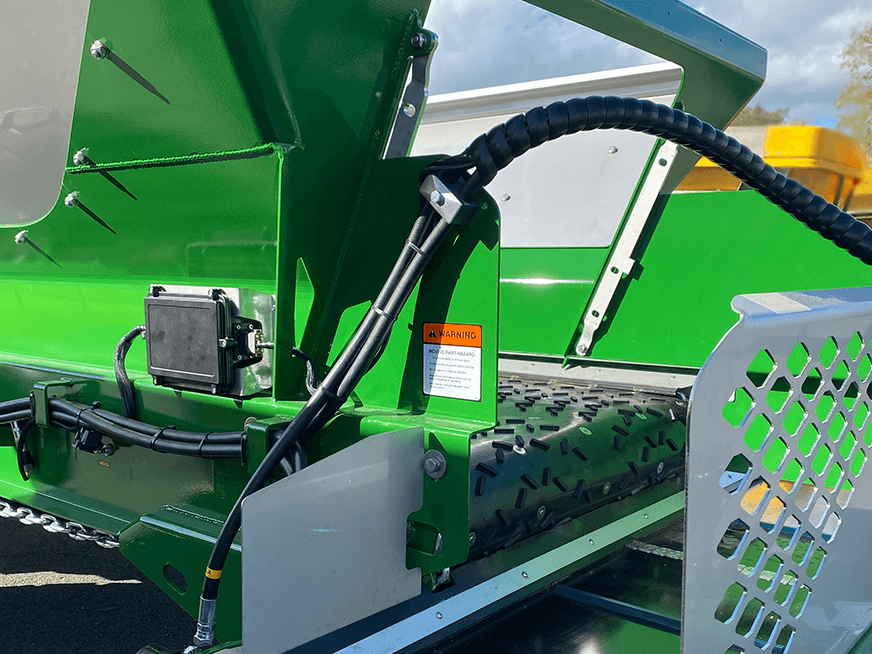 When the prime service your business provides is spreading fertiliser in orchards, then you need the best spreading machinery available.
In 2021, Ross Lawrence and Marsh Anderson bought a SAM Orchard Spreader for their business PrimeHort Ltd, based in Te Puke, Bay of Plenty, NZ.
Being at New Zealand's kiwifruit capital, most of their work is on kiwifruit orchards with a small side helping of blueberries and avocados.
Ross has two clear reasons why they chose SAM. Firstly it was affordable, and secondly, it could change between broadcasting and banding fertiliser with the push of a button.
The SAM has one 2m3 hopper and a conveyer belt on the front that goes to the side and bands or piles product beside the vines.
On the back of the bin are two spinners which can broadcast over a 15m width.
The conveyer belt floor is hydraulically-controlled. It either goes forwards to pile or band, or reverse to broadcast.
All they have to do is push a button to change over, and shut one door and open the other. It is that easy.
Row spacings in kiwifruit orchards vary between 3.5m and 5m. This affects broadcasting out the back.
"We have to change the row width in every orchard. We just go into the SAM's computer and change the row width and it tells us how far to open the back door and changes the speed of the spinner."
The widest they spread is 15m when they cover three 5m rows. The smallest is 9m for three rows at 3m spacings.
"Doing three rows at once is comfortable with this spreader," Ross says.
The SAM is 1.6m wide and easily fits down the smallest row.
The top of the bin is open for easy loading. Ross and Marsh went up-market and invested in a hydraulically-driven mat on the truck deck. It slowly moves backwards to unload directly into the SAM hopper.
Calibrating is easy. Ross weighs the product and enters the weight into the computer.
"With that in and the correct width, it is very accurate," he says.
The controller has a rating of IP67, meaning it could be underwater for a while and not be bothered. Therefore, it is fine in a tractor without a cab.
PrimeHort's SAM has scales built into the drawbar and axles. It is handy for contractors to know exactly how heavy the load is, and it also gives information for calibration.
"The computer will calibrate after a row or two. So, if the density is entered wrong, it will work it out."
Marsh and Ross pile, band or spin a range of products with the SAM, including powders and granulated products, lime, sand, compost and base fertiliser.
"All sorts of witch's brews go out the back. Some stuff I have no idea what it is."
An unexpected bonus has been SAM's tolerance for a range of compost. With their other brand of spreader, compost has to be well screened. "In the SAM it can be wetter and clumpy."
Often younger vines take banded compost and mature vines have it broadcasted. So it is an advantage that any product can be banded or spun.
SAM Machinery provides options such as attachments to direct the spun product out to one or both sides, top hats to increase the volume by an additional 1m3 or 2m3, monitoring of the hydraulic oil temperature, and variations on tyre treads.
Ross drives most of the time and he uses a 95 hp tractor with hydraulic oil flow of 60 litres/min.
Being contractors he and Marsh need to tow their SAM on the road, and it is road-legal with a light bar and a cover. If they are travelling any distance they cart it on a transporter, however.
Ross bought the SAM orchard spreader through the local Case IH dealer Giltrap Agrizone in Rotorua.
"Giltraps Agrizone are really good. The workshop will do anything to make sure it works and goes the way it should. I am really happy with the after-sales support."
He is even more impressed with Toby Stone from SAM Machinery.
"SAM people are amazing. Their after-sales service is better than the machine, and I'm happy with the machine."
Ross appreciates the way SAM Machinery ensured the orchard spreader not only does the job, but does it the way he wants.
"I felt the floor wasn't fast enough for compost, so they sent a whole new oil control block to fix that."
Some of Ross's clients like to pile compost by every plant. When he discussed this with Toby, the mechanics at Sam Machinery added a timer so that every pile would be the same. All that was for no extra charge.
Ross also wanted to change the spread pattern and again the SAM boffins came up with a plan and sent him new spinner discs.
"They went out of their way to make sure I was happy. I can't rave enough about SAM Machinery people."