FARM TRADER Written by Mark Fouhy
Shout out to SAM - 75!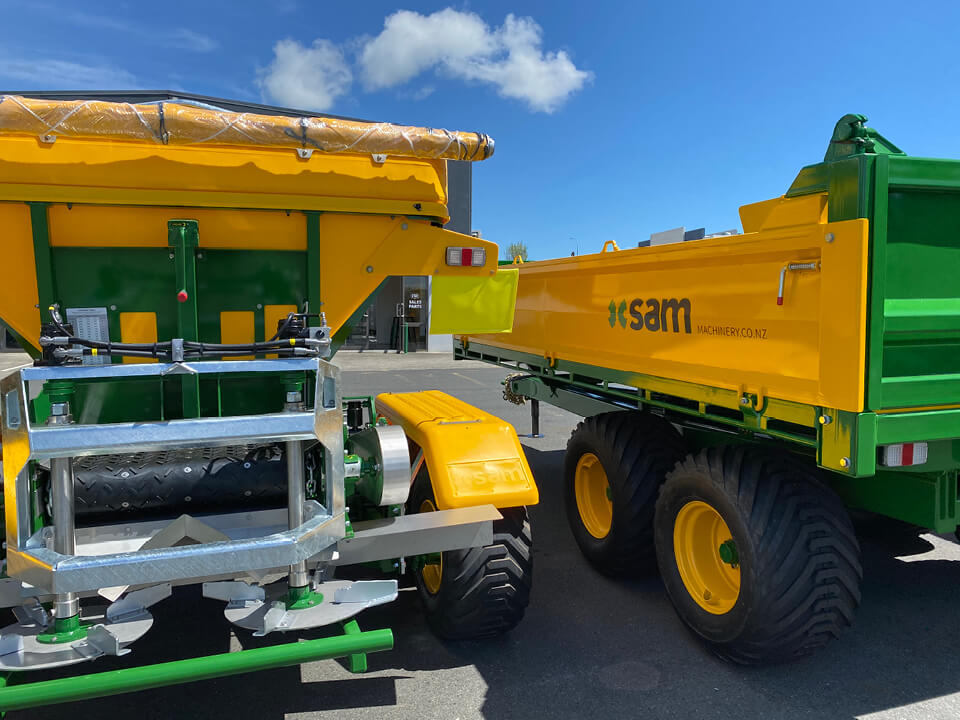 Farm Trader is giving a shout out to smart family business Coombridge & Alexander with its popular SAM range of machinery
Coombridge & Alexander is celebrating its 75th year in business. General manager Dave Meade says as the company enjoys its anniversary, SAM's slogan of 'Strong, Simple, Smart' still rings true.
Their green and yellow gear traditionally includes SAM Spreaders, Feed Wagons, Hydraulic trailers, and Quick Hitches.
The company is marking the year by extending into horticulture with its innovative new SAM Orchard Spreader. The belt simply reverses from your tractor at the touch of a button – forward for banding/piling and backwards for spreading. It's versatile, spreading processed fertilisers to mulch and green waste.
The company is also adding more smart technology. TOPCON computer-controlled Spreaders give its customers options for even greater accuracy, reporting, and control.
Wilf Coombridge and Johnny Alexander were farming when they began to make fence posts and gates for local farmers back in the 1940s. Granddaughter Kate Coombridge says the original drive for reliability, simplicity, and great service began with the founders and now flows across three generations.
"We are not interested in huge growth or world domination. Our goal is to create a sustainable business that will last well into the future. Our aim is to always be the farmer's favourite."
The company is giving back to the communities that have supported them over the last 75 years by donating $1000 grants regularly across the year.
Email your suggestions to greatcauses@sammachinery.co.nz.