First published in Rural News
Spotlight on SAM Machinery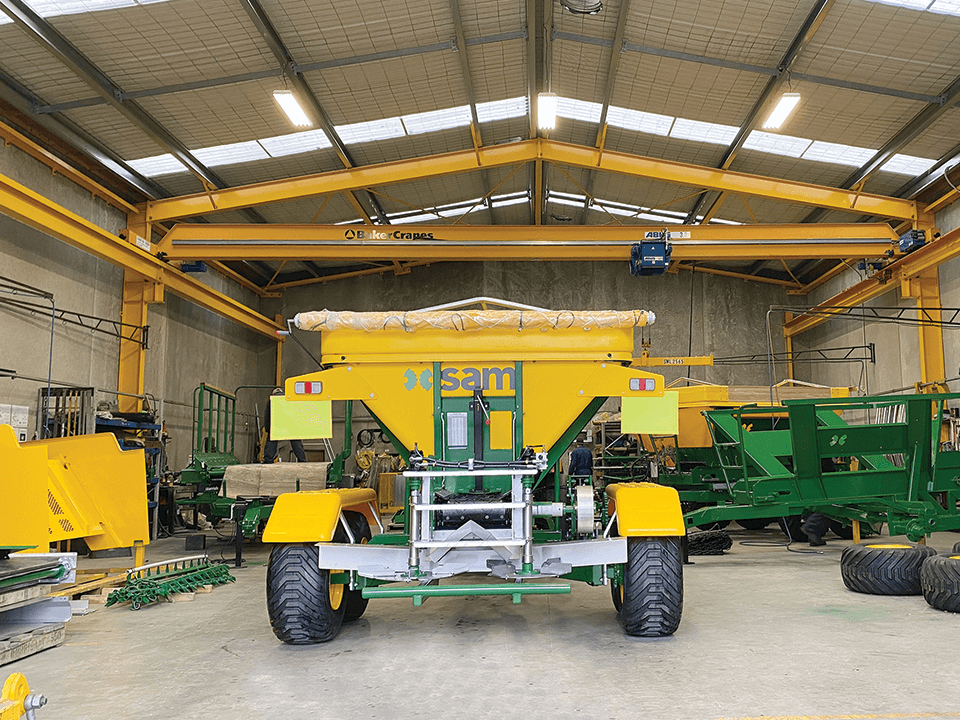 We look at the wealth of design and manufacturing ability we have in Australasia, making productive and cost-effective products for the agricultural sector. This week Mark Daniel takes a closer look at SAM Machinery, catching up with the granddaughter of one of the original founders, Kate Coombridge.
When was the company founded, by whom and why (was it to solve a problem or market a product)?
Coombridge & Alexander began back in the mid-1940s, so 2020 means we are celebrating 75 years in business. Back then Wilf Coombridge and Johnny Alexander started making fence posts and farm gates for local farmers and further evolved into manufacturing hay elevators. The first welder and premised came along in 1952, leading to a range of steel products for agriculture, driven by chatting with farmer friends. The early days were hindered by the factory being flattened by a tornado that tore through Frankton in 1948 and a devastating fire in 1950. The SAM name was an acronym from the names of 'Arnold & Mervin Sokes' - who helped invent one of the first products the SAM Haystacker.
Is it single or multiple sites and how many people are employed?
Sales, parts, servicing and manufacturing of our family-owned and operated business are all grouped together across multiple factories on one site, employing around 40 people.
What are your key products and which markets do they serve?
The familiar yellow and green SAM Machinery range includes spreaders, feed wagons, hydraulic trailers, quick hitches and the new SAM orchard spreaders.
Are your products unique? If so, what are the four key benefits? If not unique, what are the four unique selling points?
SAM trailers are known for a tough core-ten steel deck and drop-down sides. Our feed wagons feature a maintenance-free, stainless chain side-feed. Likewise, our spreaders have long-lasting plastic bins for durability and simple trouble-free operation. The design of the quick hitches allow them to stand unsupported with great visibility. While our recently introduced orchard spreaders can spread notoriously tricky products such as mulch, with no change-over time between banding and spreading.
Looking at an ever-evolving market, what changes have you made over the last few years? or what will you have to do moving forwards (this might have required design or manufacturing changes - reworks to enter new sectors or the incorporation of electronics)?
We are continuously looking for areas where our products and processes can evolve in line with our 'Strong. Simple. Smart.' slogan. This year, we moved into horticulture with the new SAM Orchard Spreader, allowing orchardists to choose between spreading and banding at the touch of a button. The addition of smart technology has seen weighing apps for mobile phones or tablets. And the likes of TOPCON-enabled spreaders with ISOBUS functionality for greater control, accuracy and reporting.
What has been the company's greatest success since its formation?
Longevity - by earning farmers' trust every single day.
In contrast, what has been the biggest "oh Bugger" moment or the steepest learning curve?
Realising that models that had worked for the last 70 years may not be right for the next 70. This has led us to invest significant time and resources on transferring IP from the heads of some of our longer-serving staff. We have also invested in CAD modelling, content management systems, automated manufacturing processes and strengthening our competitive differences through design-led decision-making.
If you were approached by someone looking to start a business, what would your three key pieces of advice be?
Stay true to your core principles. Ours are reliability, simplicity, smarts and heart. And as dad would say, "always keep an eye on the bottom line".
Where do you see the company in the next three, five and ten years? What changes do you foresee to keep relevant and grow your business?
Our goal is to keep strengthening a sustainable New Zealand business to last well into the future, with the key aim to always be the farmer's favourite.