2.5 Cube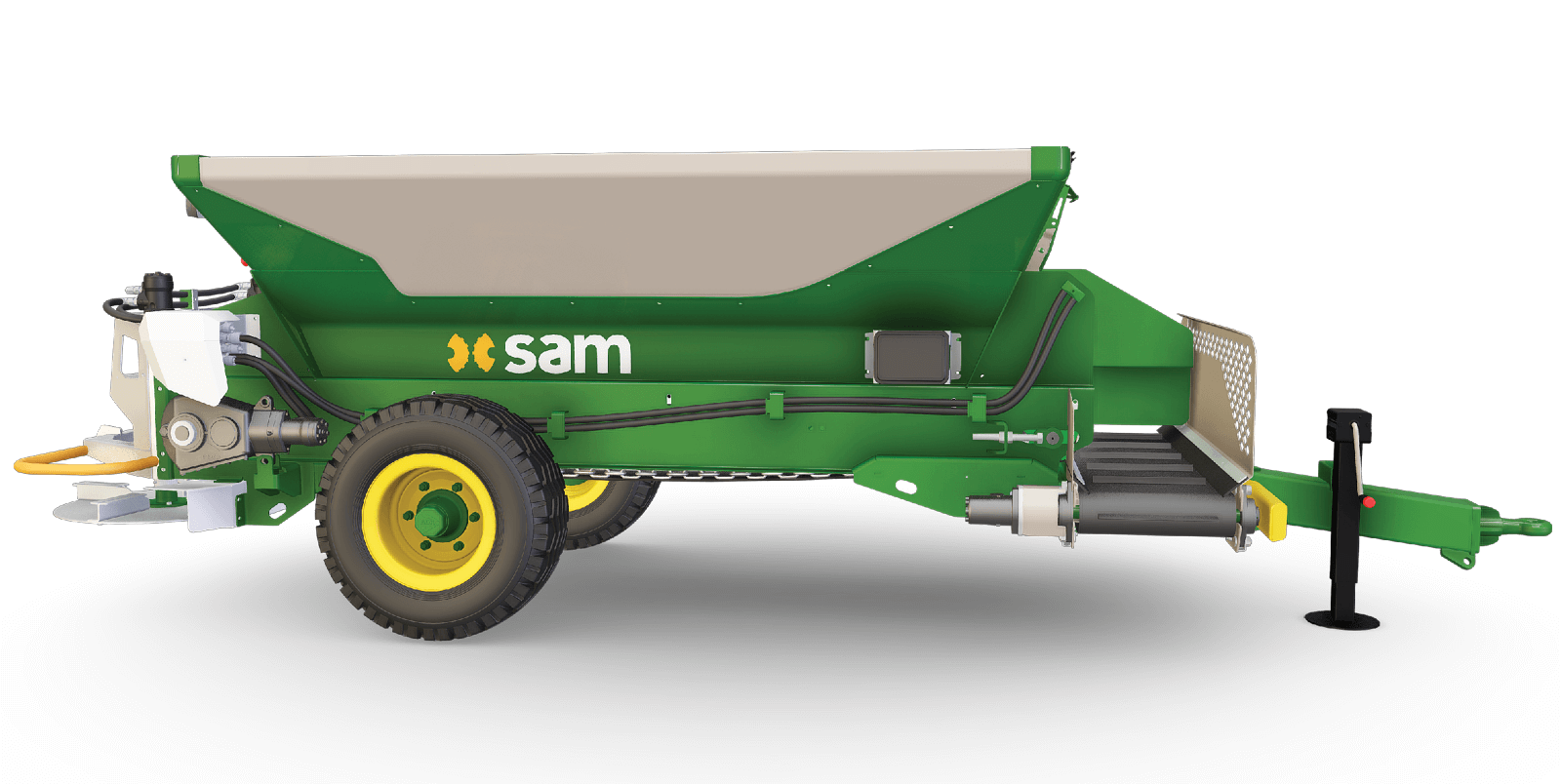 Simple and versatile.
With the same practical design and easy to use operation that all SAM's are known for, SAM Orchard Spreaders are made to meet the needs of modern orchards. They have a lower profile and narrower width, and provide great versatility around what you are able to spread.
Designed primarily for spreading organic matter such as compost, green matter and mulch. This machine will also spread processed fertiliser like superphosphate, lime and urea with absolutely no change-over time!
SAM Computer control
This Orchard Spreader includes a computer controlled hydraulic floor. The SAM controller allows you to choose between spreading or banding at the touch of a button. Rates are input and you are away.
Banding compost, green matter and mulch using the side conveyor
The floor mat moves toward the front of the machine, moving material onto the side banding conveyor. This creates a precise banding or piling pattern in full view of the operator.
Spreading organic material and processed fertilisers using spinners
For a spread pattern behind the machine, the floor mat moves backwards toward the spinners. For different planting centres, spread widths can be changed by setting the speed of the spinners and from the controller.
Minimum of 40 l/min required from your tractor.
Smart features
Watch the SAM Orchard Spreader in action

This quick video gives you a preview of the SAM Orchard Spreader in action. Made to meet the needs of most modern orchards it is versatile and easy to use. Choose between spreading and banding from your tractor at the touch of a button.

SAM computer controller

Turning on and off and controlling the speed of the 800 wide floor mat is simple. Just use the intuitive controller in your tractor. Suitable for open cabs due to its high water rating (IP67).

Side conveyor for banding. 2 for 1!

This compact conveyor spreads material in a line to the right hand side of the Orchard Spreader. Great for banding where you need to apply product in a line or a pile. Designed to be in full view of the operator. There is also absolutely no change-over time between banding and spreading.

Instant control switch

Simply flick the switch for instant starting and stopping of application. No more anticipating when your product is going to come out. There is also a handy piling timer function set from your controller for evenly spaced piles.

More stainless for longevity

Majority stainless at the rear of the machine, extends longevity of gear where you need it most. Stainless discs are run via enclosed stainless spinner tubes and two well proven speed adjustable hydraulic motors.

Strong stainless panels

Stainless bins are extremely corrosion resistant. Chassis's have seen a new evolution of painting procedure for extra corrosion protection. Firstly a steel grit abrasive blast, then a thermal-arc pure zinc spray. Tough stuff!

Even does mulch!

There are three positions for the front door depending on what you are wanting to spread 1 Closed (for spreading at rear), 2 Half open (for banding at a volumetric rate) and 3 Completely removed (mulch, woodchip, bark, compost or green waste).

Everything from lime to compost to mulch

Spread the likes of super, lime, urea, sand & poultry/pig manure out back and band/pile compost, vermicast, green matter & mulch out front. Very very versatile.

Review

Watch this Farm Trader video. Or read their full review in our News section.
Optional items
Standard cover
Swivel coupling
LED lights
Tyre variations
Side attachment for spinners
Centre attachment for spinners
Tophat extensions
Narrower bin
Load cells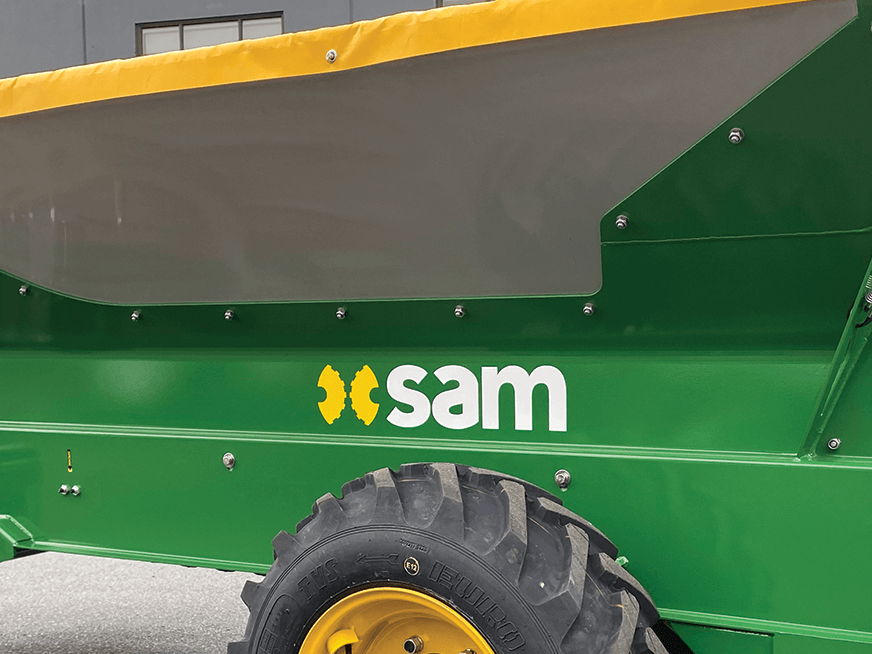 Standard cover
The standard cover is manually thrown across the load and fixed in place with bungys and stainless fastners. Keeping it simple.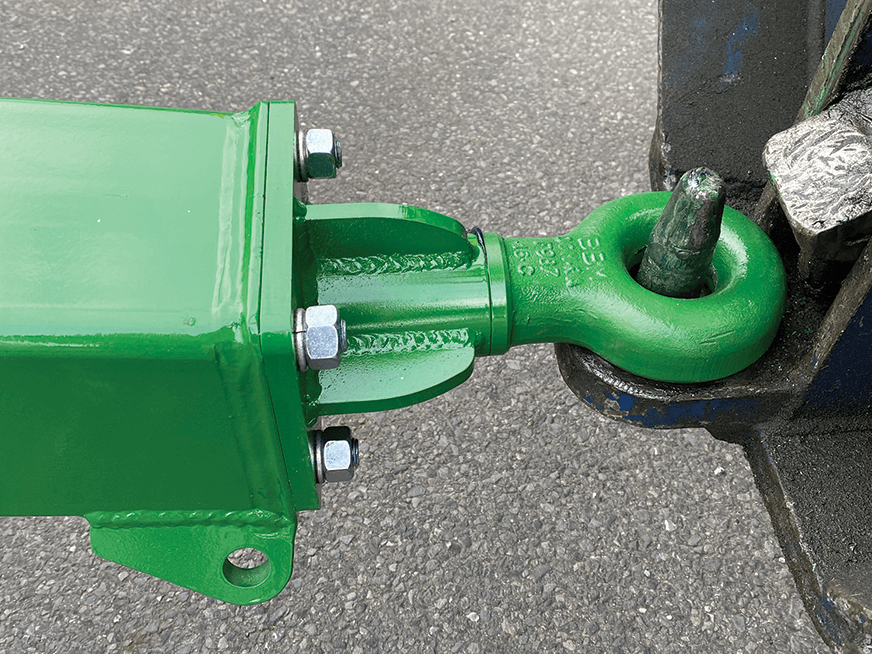 Swivel coupling
Orchard Spreaders come standard with a fixed coupling with a ball in the eye.
This can be upgraded to a heavy-duty swivel coupling. A swivel coupling adds stability in varied terrain. The swivel coupling has a donut eye.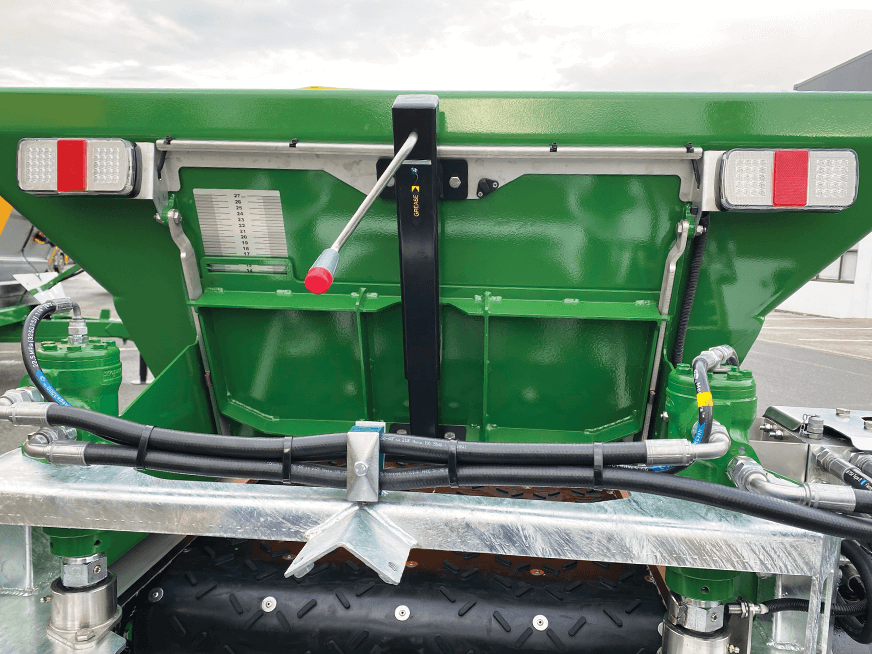 LED lights
If you are using your machine on the road you will need a set of lights. They are easy to mount and hardy for knocks and general wear and tear.
Weatherproof lights are LED and plug directly into your power source.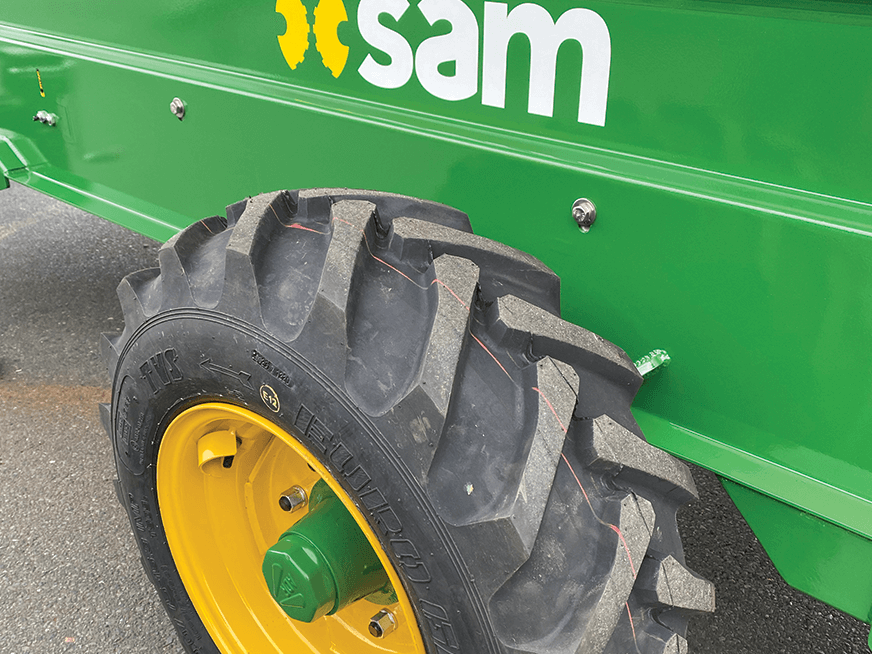 Tyre variations
We have tough high performing tyres to suit any application. They are chosen for their quality and durability.
We can change tyre sizes to suit your specific needs. 10/75 X 15.3 Tractor tread tyres are standard. Or you can go for a different tread.
Larger 400/60 X 15.5 12-ply tyres are also available. These larger tyres can be good if you have softer, wetter conditions. However they do add to the width and height of the machine (makes machine 2m wide and 60mm higher than standard).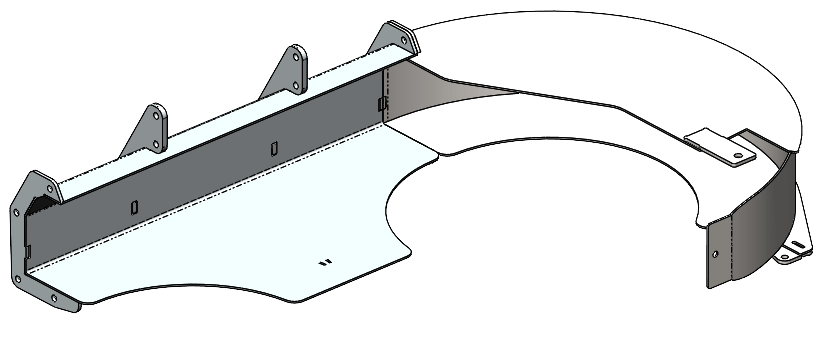 Side attachment for spinners
Spreads to the right hand side of row only. It simply bolts on.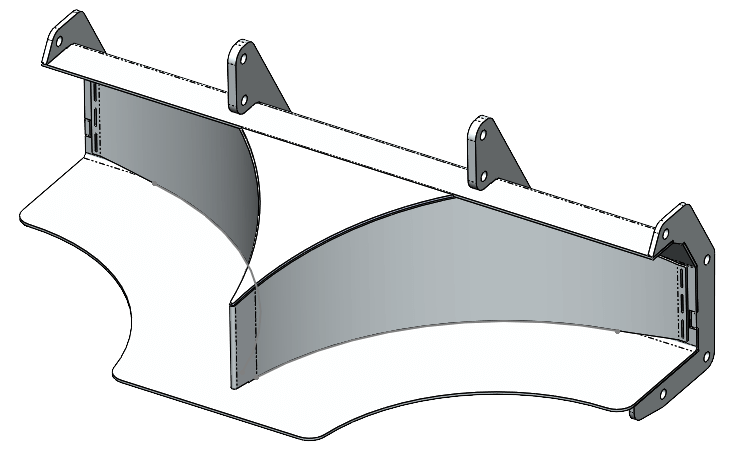 Centre attachment for spinners
Centre blocker - spreads on the rows either side of your machine. It simply bolts on.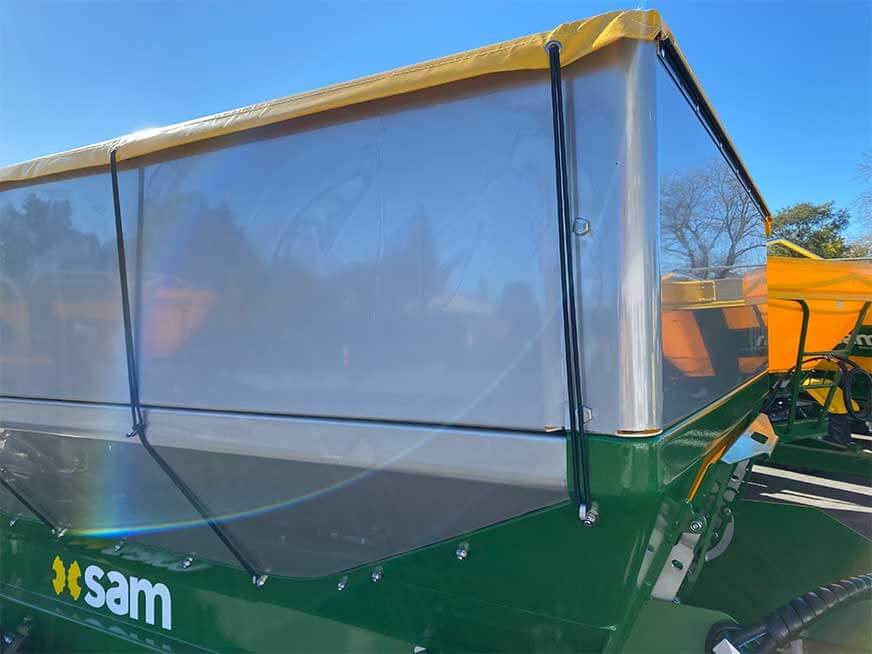 Tophat extensions
It is possible to increase the machines capacity by adding a tophat.
There are two sizes available. The largest top hat increases your capacity by 2 cubic metres (shown here). The smaller tophat increases your capacity by 1 cubic metre.
These has been popular for our New Zealand wine growers.
Narrower bin
Your machine can be manufactured with a narrower bin. Our 1400 option has been very popular with hops growers.
Load cells
Adding load cells give you improved accuracy as they are weighing the product in your bin. Orchard Spreaders have three load cells fitted.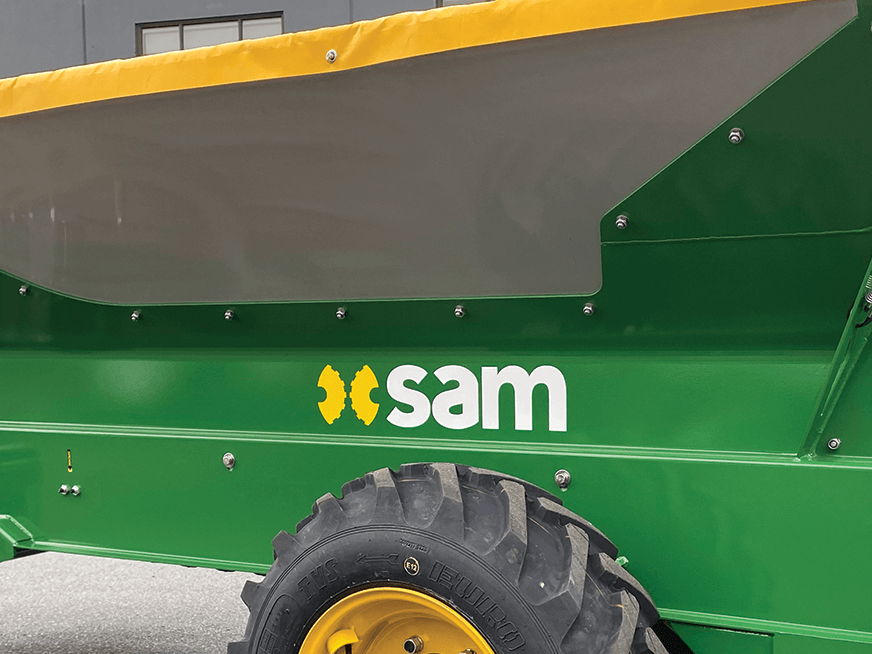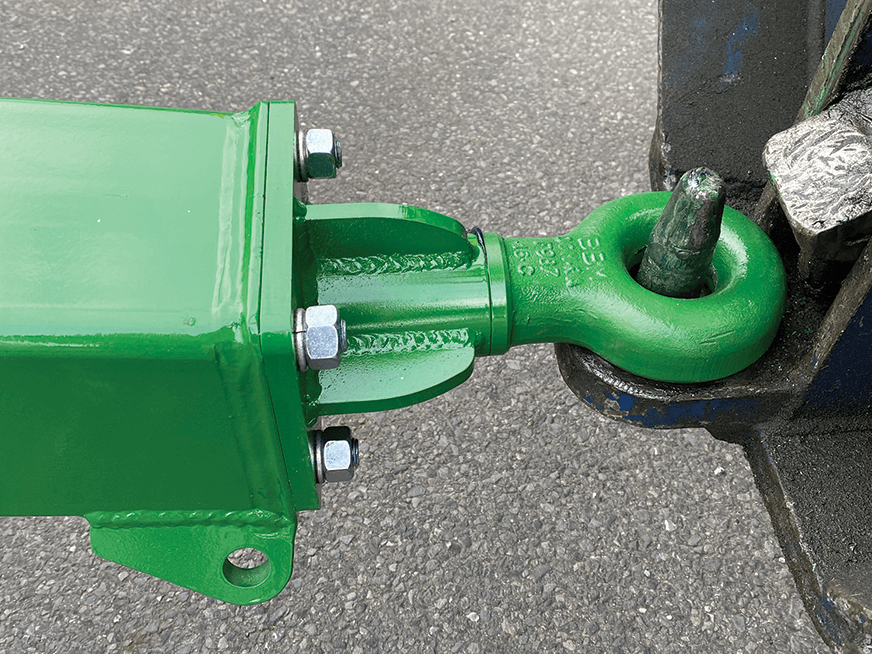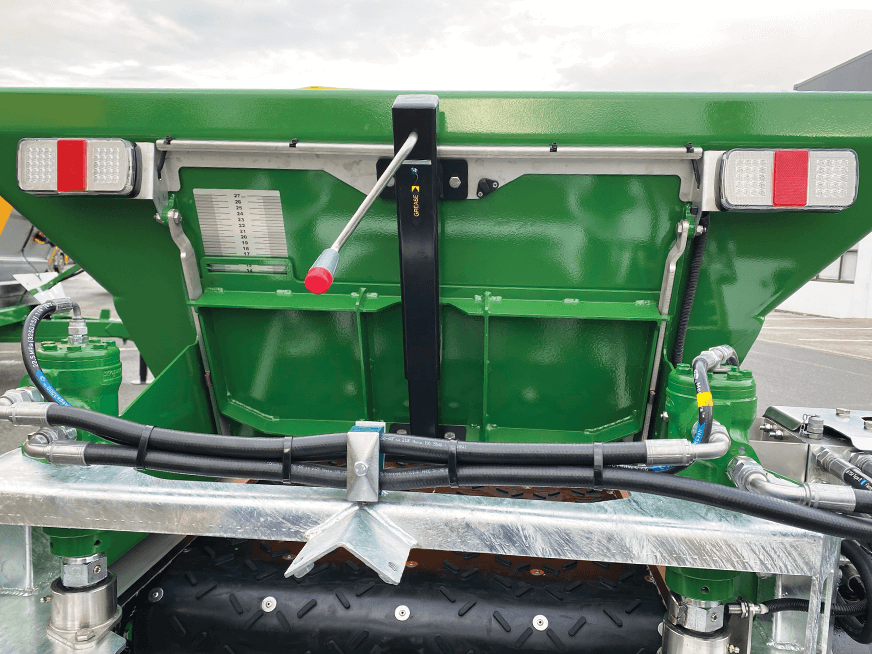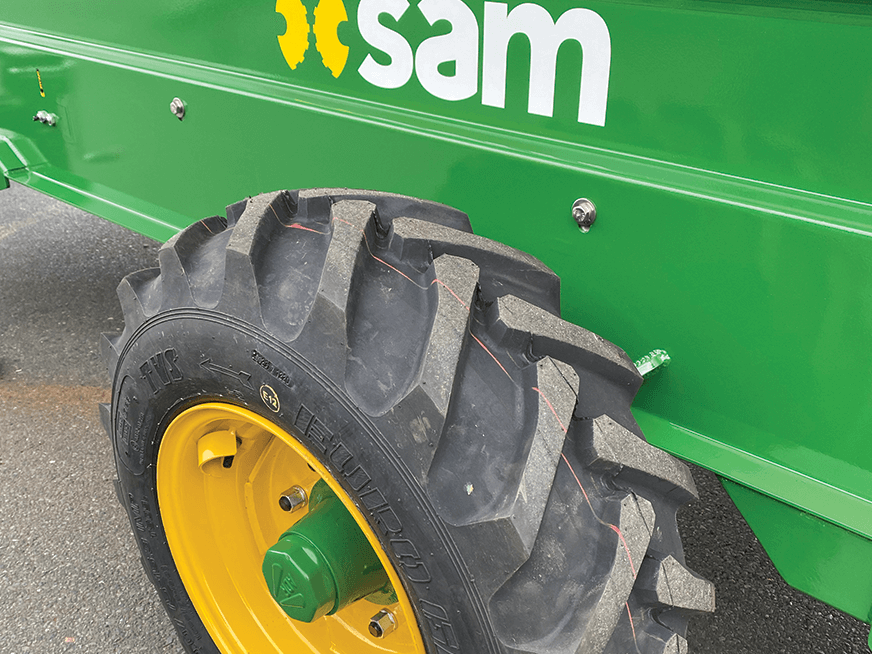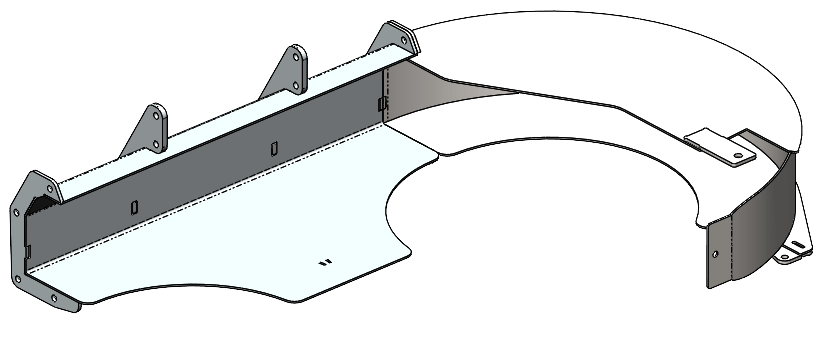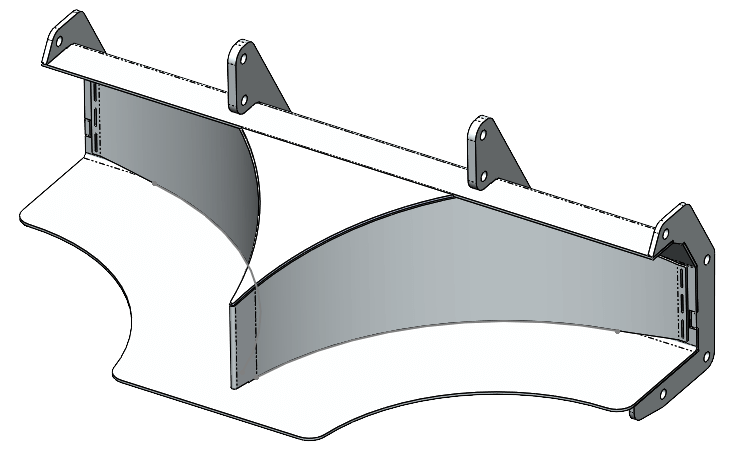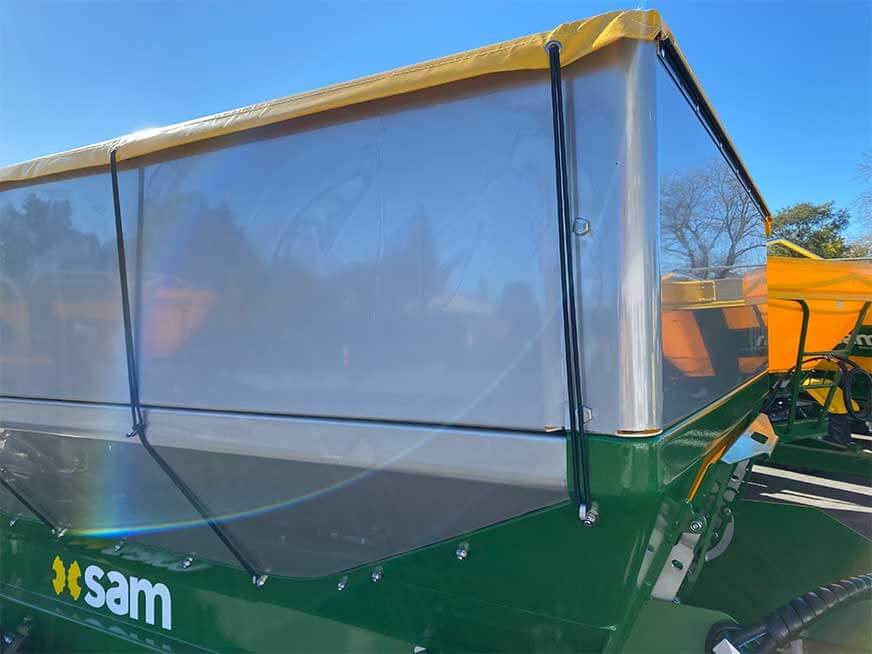 Specifications
Axle type

Single-axle 70mm

Axle capacity

6,000kg

Wheel type 10/75 X 15.3

400/60 X 15.5 12-ply (upgrade)

Jack type

70mm screw jack

Overall length

4.75m

Overall width

1.6m

Overall height

1.42m

Bin width

1.59m

Bin length

2.6m

Capacity

2.5m3

Superphosphate

2.2T

Lime

3.2T

Urea

1.5T
Need help fast?
Contact your local dealer or call SAM for technical help and support.
Quality guaranteed
SAM makes quality machines and stands by them. Every Spreader goes through extensive quality and accuracy testing. All come with a comprehensive warranty.
Download the brochure
Simple where they need to be and smart where it matters.
Both spreading and banding with no effort it the changeover. Saves me time and money.
Being able to see my conveyor is bloody brilliant!
Finally I can do mulch! The range it can spread it gold.
The combo of solid steel and stainless is sturdy as!